08 - History of Canvey Island 1901
Chapter VIII
Canvey Island under King Edward VII.—Invaded by Hester.— Motives.—Plots.—Canvey Pier.—The Venetian Canal and Lake.— Qondolas and Launches.—Vermuyden Winter Gardens.—Electric Trams and Light.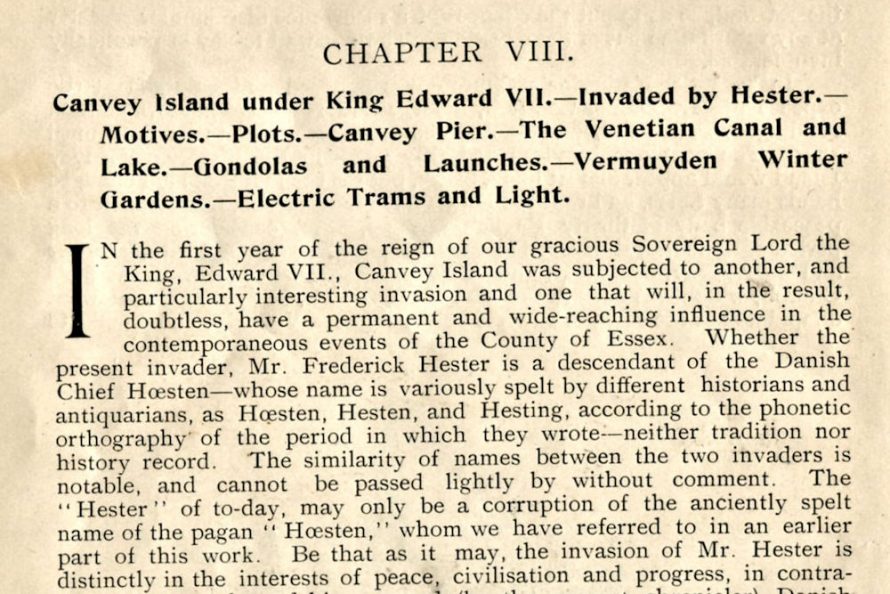 In the first year of the reign of our gracious Sovereign Lord the King, Edward VII., Canvey Island was subjected to another, and particularly interesting invasion and one that will, in the result, doubtless, have a permanent and wide-reaching influence in the contemporaneous events of the County of Essex. Whether the present invader, Mr. Frederick Hester is a descendant of the Danish Chief Hœsten—whose name is variously spelt by different historians and antiquarians, as Hœsten, Hesten, and Hesting, according to the phonetic orthography of the period in which they wrote—neither tradition nor history record. The similarity of names between the two invaders is notable, and cannot be passed lightly by without comment. The "Hester" of to-day, may only be a corruption of the anciently spelt name of the pagan "Hœsten," whom we have referred to in an earlier part of this work. Be that as it may, the invasion of Mr. Hester is distinctly in the interests of peace, civilisation and progress, in contra­distinction to that of his assumed (by the present chronicler) Danish ancestor of the 9th century, whose mission to the Island of Canvey was diametrically opposed to anything like peaceful or lawful pursuits, as our readers will have previously gathered. It will be remembered that Hœsten was defeated at the battle of Benfleet-cum-Canvey ; and that his wife and two sons were taken prisoners, but their lives spared by King Alfred the Great. Subsequent records show that these two youths embraced the Christian faith, and thereafter became useful and dutiful members of the British community. Records also show that these two youths permanently settled in this part of the county ; and, taking these circumstances into consideration, he would, indeed, be " a bold bad man " who could to-day confidently assert that Mr. Frederick Hester is not a lineal descendant of the ancient pagan invader of Canvey Island. The similarity of name is almost in itself sufficiently striking to warrant the presumption, in the absence of a genealogical tree, that the last men­tioned peaceful invader is a lineal descendant of the former warlike and aggressive one.
The modern invasion happened in this wise. Mr. Frederick Hester by peaceful and lawful means acquired a very considerable portion of Canvey Island, and, recognising the fact of its close proximity to London and its want of seaside health and pleasure resorts, to meet the requirements of its teeming and toiling millions, he mentally resolved that Canvey Island should be developed and utilised to supply this useful and beneficient purpose, and thus give to murky London yet another "lung." With an alacrity and courage that would have done credit to a very much younger man, Mr. Hester set about an admirable development scheme in the most practical and business-like manner. Philanthrophy in the modern sense did not enter into it, as Mr. Hester, like Lord Rowton, does not believe in pauperising the people. Let the people be self-reliant and independent is evidently his motto ; but his perspicacity and hard-headed business­like method in dealing with a great social problem, goes to show how the people can, with ease and comfort to themselves, be rendered both self-reliant and independent by a well conceived scheme, based on the foundation of self-asserted thrift. With this laudable object in view he proclaims, as did the Prophet of old, "Back to the land, O ye people!"
Mr. Hester's foresight in choosing Canvey Island for realising his comprehensive project is in every way admirable. The ramifica­tions attendant upon his scheme are manifold, and none of them savour unduly of optimism. He is a firm believer in a small landed proprietory; and for the purposes of his experiment he has undoubtedly chosen an ideal and unique spot. Its easy access and closeness to London ; its cheap and serviceable railway accommoda­tion ; its nearness to the sea and river; its marvellous stretch of beautiful shell and sand beach; its romantic mainland surroundings; and its proverbially healthful climatic conditions have all entered into his calculations, in his selection of Canvey Island for the realisation of the project which he has at heart, and which, roughly speaking, may be stated thus :—Having acquired in perpetuity, some thousands of acres of the Island, he has had them carefully mapped out and duly divided into small plots for building purposes. These plots are of such convenient size that bring them within the range of almost every one to purchase on a system of easy payments, extending over a given period ; or, in other words, of enabling them to acquire land with immediate possession, on the instalment system, whereby it is competent for the thrifty toiler of our great Metropolis, to become a free­holder of land and house property, in the easiest possible manner. The plots are so conveniently small that every person can possess himself or herself, according to their means, of a sufficient quantity of land whereon to erect as fancy dictates, a bungalow, villa, house, shop or to even extend the one or the other to a small profit or pleasure farm. One great feature of his scheme is, however, that manufacturers of commodities of a noxious character are barred, so that the present healthfulness of the Island shall in no way be jeopardised or prejuiced to the detriment of succeeding generations. Herein lies, indeed, a touch of realistic benefaction and lasting philanthropy.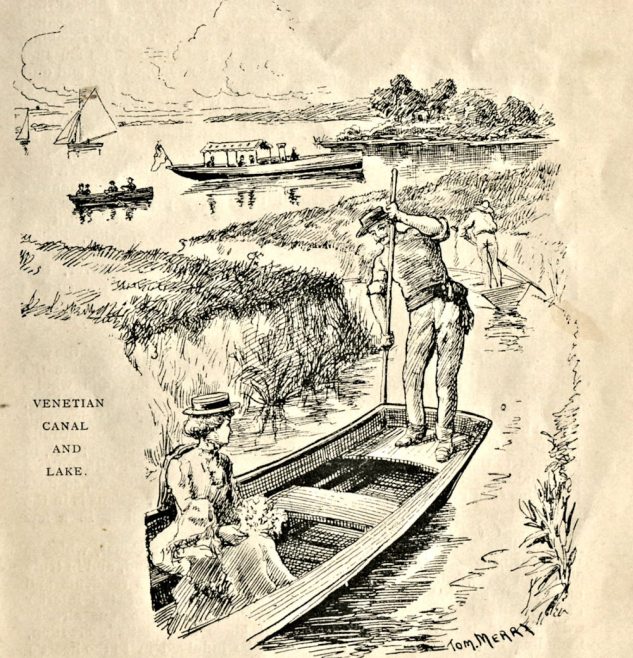 Having, so to speak, thus far cleared the ground and prepared the way for the establishment of a new seaside resort, Mr. Hester recognises the importance of providing for the general comfort, pleasure and whole­some recreation for the people who will be immediately flocking here, both as permanent residents, transitory visitors, and week-end "trippers." As we have said before, Dame Nature has been most lavish in bountifully bestowing Canvey Island with natural and healthful attractions ; but, in addition to these, Mr. Hester proposes to supplement them with quite a multitude of artificial ones. Already that refreshing promenade, so dear to the heart of the excurionist, a pier of considerable dimensions is in the course of construction, and will be available to the public in a few months.   Another attraction will, doubtless be, the Venetian Canal, which is now nearing completion, and which will intersect the Island, and in truly Venetian style, with gondolas and electric launches, the residents and others will be enabled to traverse the whole length of the interior of the Island by water. The canal will open into an already existing and picturesque lake, where all kinds of aquatic recreation, including in the season skating, may safely be indulged in to the heart's content.
A handsome glass structure, shimmering in the sunlight, is steadily rearing its crystalline head, and lengthening its glittering body, and will be the cynosure of all eyes. This building when completed will be no less than six miles in length ! To what purpose will it be put? This is the Winter Gardens and Palace we spoke of in a previous chapter, and will be a befitting memorial to Sir Cornelius Vermuyden, the reclaimer of Canvey Island.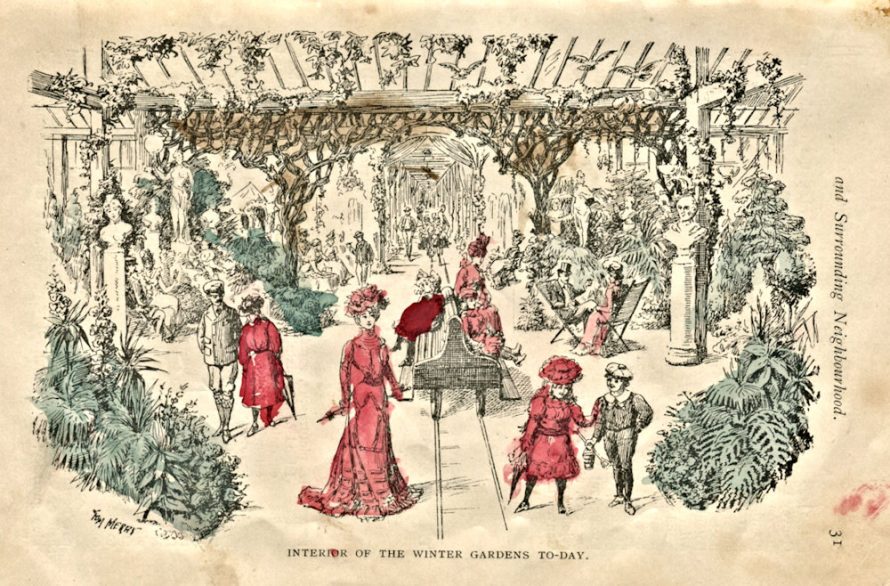 As and when sections of it are completed, they are planted with luxuriant exotics, handsome flowering shrubs, choice flowers in profusion, a grand variety of creepers, palms and ferns, suitable vegetables and an excellent collection of espalier fruit trees, including oranges, apricots, nectarines, peaches, apples, pears, and grapes, in short a veritable botanical garden. Here also we are provided with a menagerie, aviaries, fishponds and fountains, statuary, a maze, rock and rustic woodwork, a fancy bazaar, side-shows, refreshment rooms, and a limited number of utility stalls. The entire length of the building is traversed by a minature but useful tramway, so that visitors can walk or ride just as they may feel disposed ; and the whole fabric, when finished, will be brilliantly illuminated with electric light, and heated throughout with hot water pipes. There are many other attractions in store, and the present and future inhabitants will have cause to rejoice on the anniversary of the day when Mr. Frederick Hester invaded Canvey Island.