02 - History of Canvey Island 1901
Why the Danes Came to Canvey Island
CHAPTER II.
Youity of Canvey Island.—It was known to Ptolemy. —Ancient Britons and Romans.—Invaded by the Danes under Hæston. — Their defeat by Alfred the Great at Bamfleete=cum-Canvey.—Danish Prisoners Flayed Alive and their Skins Nailed to Church Doors.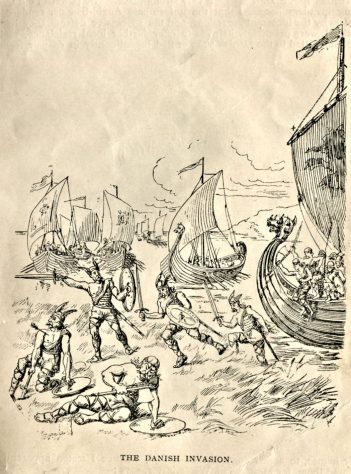 There is, we can assure our readers, considerably more than a mere transient halo of romance surrounding Canvey Island and its immediate neighbourhood. The County of Essex, generally, has played a gallant part in the building up of British History and all that makes a nation great; and, looking backward through the dim vista of bygone ages, we are compelled to arrive at the conclusion that this South Eastern portion of the County has liberally contributed its full quota, both in these and other regards. It is literally teeming with local traditions and historical associations of sufficient importance to gladden the heart of the severest of archaeolo­gists and naturalists. Of the antiquity of Canvey Island there can be no possible doubt. It is not, as some people vulgarly think, merely a mass of submerged fore-shore reclaimed from the Thames Estuary some hundred years ago, as we shall presently make patent to all. The learned William Camden, the celebrated antiquary and historian in 1582, travelled through the Eastern parts of England to survey the country, and he devoted much time and attention to this portion of Essex; and in speaking of Canvey Island he justly asserts it to be the Convcnnos frequently alluded to by Ptolemy (Claudius Ptolemasus), the ancient astronomer and geographer, and mentioned by him in his world-renowned work, entitled " Geographike Huphégàsis." This work, his masterpiece, was compiled about the year B.C. 161. Yes, it is in this old tome that, presumably the earliest record of Canvey Island is to be found; and from the fact that it was mentioned at all at this remote period, it may conveniently be deduced that it was a place of at least some little importance, although, naturally, tradition rather than history is our authority in hazarding the arrival at such a conclusion.
What Canvey Island was in the time of the Ancient Britons and even that of the Romans can only be conjectured, as the annals of our country at this stormy period are both imperfect, obscure, and incomplete; but, from ancient remains and more modern antiquarian discoveries in this neighbourhood, there can be little room for doubt that it too played its little part in this hazy period of the country's history. There is now a considerable break in the historical associations of Canvey Island. With reluctance, therefore, we must pass by this interregnum of silence to the ninth century, when we find it in possession of the Danes, and dis­tinguished as the usual landing place of those adventurous Danish pirates, who so completely struck terror into the hearts of the Anglo-Saxons in the immediate vicinity.
Topographically speaking, Canvey Island was, from its unique position and surroundings, an ideal rendezvous for the congregation of these hardy Scandinavian hordes, wherein they could carry out their nefarious designs of carnage and plunder, with apparent impunity. So successful do these inveterate raiders appear to have been in this, their chosen hunting coign of vantage, that they established a very considerable camp here and actually made it their permanent " dumping ground."
Emboldened by continued successes over their Anglo-Saxon victims, the Danish rover and chieftain, Hæston, in the year A.D. 893, had the audacity to build a castle or fortress hereabouts, in which he used to store up his plunder and other illgotten gains, and which he had carefully guarded by a powerful garrison. We are told it was situated about the Southern district of the Island; and this fortress is alluded to by Matthew of Westminster, AD. 895, as "a very strong place." So powerful did the Viking invaders become, that the unfortunate Anglo-Saxons, rendered hopeless by the incessant incursions, and the successive defeats they had sustained, were practically helpless to offer further local resistance, and either submitted to the Danish yoke or fled incontinently in despair from their homes, to seek refuge further inland, whence Hæston apparently followed them, for Matthew of Westminster, says :—" But as soon as he (Hæston) came to Bamfleet then plundered he that very part of the King's realm which was in the keeping of Ethered his compeer."
But the man of the hour arose to meet a national emergency at the psychological moment, in the person of Alfred the Great. For we find that in the year A.D. 896 Alfred smote the invaders of Canvey Island and Benfleet, hip and thigh, for he stormed the fortress, put the garrison to flight, demolished the castle, and took Hæston's wife and two sons prisoners, together with all their accumulated booty, which was conveyed to London. Alfred also destroyed all the Danish ships lying in Canvey Creek, taking any which remained to Rochester and London. Hæston himself, however, escaped.
It will thus be gleaned that Canvey Island has passed through some stormy and exciting scenes.   The manner of the gentle Anglo-Saxon of the period, and more especially in the time of war, was, to say the least, peculiar, for we are told that the Danish prisoners, when caught by these amiable people were usually flayed alive, and their skins nailed to the' nearest church doors.   If this be so, that fine old church, dedicated to St. Mary the Virgin at South Benfleet, must literally for a considerable period have been gruesomely arrayed in  "tanned hides."   We have, however, the records even in recent times of two distinct churches in Essex being decorated with the skins of Danes. One was St. Botolph's, Hadstock ; and we learn from the Rev. Phillip Morant that the north door of the church " is said to be covered with the skin of the Danish King (probably Hæston's) nailed on with many hundreds of nails." Morant, writing in 1768, says, " Only small bits of skin now remain round the nails, which is extremely hard." Wright confirms this so recently as 1835, and states "that a small portion of the skin is still preserved at the parsonage." The other church mentioned by Morant is Copford Church. "The doors," he says, "are covered with ornamental iron work, and under these may yet be seen the remains of the tanned skins, thicker than parchment, which are traditionally recorded to have been the skins of Danes who broke into, and robbed this church." That the custom of skin­ning the Danes alive prevailed and was universally recognised, is undoubted ; and before dismissing this gruesome integumentary subject, we venture to give the following quotation from Pepys' Diary :—
"April 10, 1661. To Rochester and there saw the Cathedral…. observing the great doors of the church, as they say, covered with the skins of the Danes."