11 - History of Canvey Island 1901
Chapter XI.
The Village of Hadleigh.—St. James' Church.-—" Cunning Murrell."—Leigh.—Ancient Buildings.—Fishing Fleet.—The Crow Stone.—St. Clement's Church.—Curious old Brasses and Tombs.—The Haddock Family.—Prittlewell.—Priory — Church.—Old Tombs.—Rochford. — Rochford Hall.—Ann Bullen.—Rayleigh.—Suene's Castle.—Holy Trinity Church. —Suene's Burial Place.
Leaving the Salvation Army Colony, and passing up a sequestered lane, we arrive at the village of Hadleigh, and encounter a delightful little picture of English rural life, where one is apt to indulge in a fond daydream, that there is no such thing as trouble in this life; and the quaint old tiled church, dedicated to St. James, with its shingled shaft, has a tendency to lend colour to and strengthen this, alas! too transitory thought. The church dates from the time of King Stephen, and is a ancient Gothic structure, with some Norman portions. Over the east window of the nave is a fresco of Saint Thomas of Canterbury. The present Rector is the Rev. A. G. Metcalfe. In the churchyard is the grave of a curious customer, who seems to have been both equally respected and feared by the simple people of Hadleigh.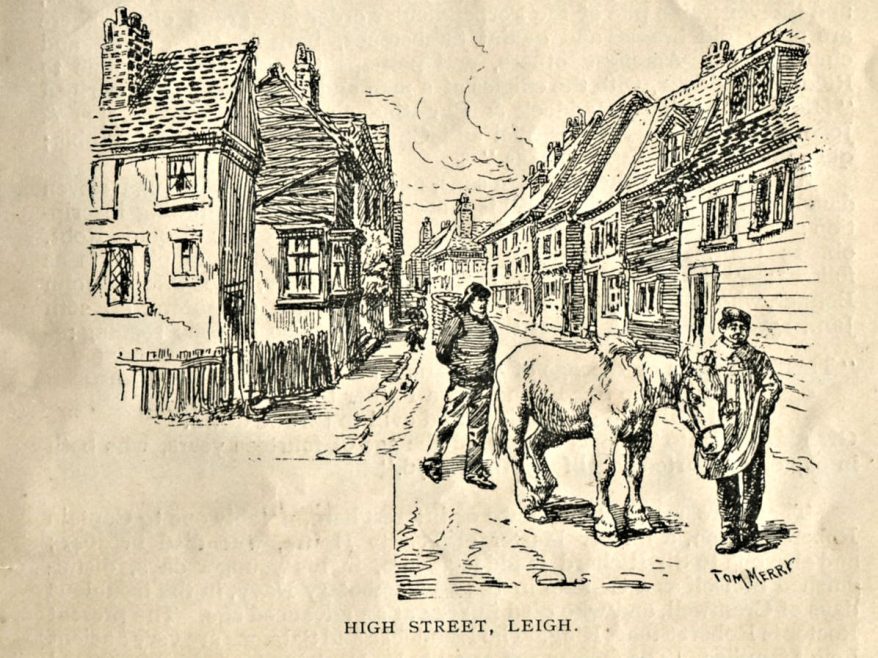 He was known to the villagers by the name of "Cunning Murrell," as a renowned exponent of the "black art," and was suspected of being capable of "casting an evil eye."His history is terseley summed up in the following words:—"Most of his life was given to astrology, quack doctoring, veterinary surgery, and the casting out of devils." He died, much to the relief of the parishioners, at an advanced age, so recently as 1860. The village possesses a good Inn, "The Castle," where cyclists, pedestrians, and other visitors can rest and refresh themselves prior to resuming their journey. It was at the "Castle Inn " that the box con­taining the cabalistic symbols, mystic documents and compounds of "Cunning Murrell"  was opened after his decease.
Two miles hence, travelling all the way through a wooded and pretty country, we reach the fishing village of Leigh, strongly flavoured with a sea-port look and atmosphere.
It is one of those fast vanishing, quaint, and old-world places that no visitor to Canvey-on-Sea should miss. Entering it as we do, at an altitude of some two hundred feet above the sea level, the eye will at once wander over the Leigh roads, exactly opposite Canvey Point, and we are struck with the numerical strength of its fishing fleet lying anchored there. The village itself is situated in a hollow, facing the mouth of the Thames, the More and the North Sea. This is the seat of the cockle and shrimp fishery—so dear to the heart of the Cockney—and it is estimated that some 60,000 bushels of the latter table dainty are caught here, boiled, and sent to Billingsgate every year. A very large trade is done here in other varieties of fish, including that popular bivalve, the oyster, which is fattened hereabouts in large quantities. Proceeding to the front, we get a glorious view and "a sniff of the briny," where we can indulge in yacht­ing or boating, if so disposed. The beach, like that of Southend, is somewhat disappointing, owing to the extensive accumulation of Thames mud. About a mile eastward is to be seen the ancient stone known as the "Crow Stone," which serves to mark the end of the Lord Mayor's jurisdiction, as chief conservator of the River Thames. Passing through the ramshackle old village again, and mounting the steep and many stepped hill to the summit, we-discover the fine old Parish Church, dedicated to St. Clement, with its ivy mantled tower, overlooking the German Ocean. This noble old fane is supposed by some to have been erected in the reign of Edward I., but by other authorities it has been asserted that it dates long anterior to the Conquest. Be this as it may, however, its antiquity is undoubtedly of a highly respectable character, and the venerable pile of the Perpendicular order is a grand one. There are many old brasses and quaint tombstones, both in the church and churchyard. Amongst others, and perhaps the oldest, is a stone to Richard Haddock, with the effigies of a man and three women, inscribed "Hic jacent Ricus Haddock & Christina; ac Margareta uxes ejus & Jobes Haddock filius dictor Rici and Christine ; ac Alicia ux dei Jobis ; qui gam Ricus ob. n Nov. 1453."
Under the man there are ten sons, and under the last woman eleven daughters. In the north chapel is a stone bearing the following inscrip­tion:- "Hic jacet Robert Salman Alicia & Johna, ux ejus qi quide Robt. ob. 15 Sept. 1472." Another curious stone in the same place, is as follows:—"Heare under lyeth Mary Bonner's body, late wife of John Bonner, who had issue by her eleven sons and eight daughters, ob 20th Jan., 1580." 
Another about the same date is also curious reading:—
"Thomas Saman of the age of 70 years, a man worthy of praise, Friende unto the Friendless, a Father to this Town,
Styll maintain good things and evill to throwe down.
Grandfather unto Thomas Saman, of the age of fourteen years, who both in one day departed this life, 5 Aug., 1576."
There are many other tombs of interest here, notably one to Captain Robert Salmon, a former Master of Trinity House, who died in 1641 ; and also one to Sir Richard Haddock, who, in his younger days, distin­guished himself as a Captain in the Parliamentary Navy, in the troublous days of Cromwell, and who died in 1714 at an advanced age. The present Rector is Robert Stuart King. The Haddocks and Salmons are very ancient Leigh families. The former one can be, by Harleian manuscripts, traced back to Leigh from the time of Edward III., A.D. 1340. From this source of information we reproduce, without comment, the following curious letter from Miss Isabella Critcheley, daughter of Admiral Sir John Critcheley, to Sir Richard Haddock whom we last mentioned :—
"Leigh.   Wednesday Night.   4 July, 1694.
You're good nature, Sr, hath drawne upon you the gossupin of a company of women. My sisters desire we may drinke our punch with you to-morrow in the evening, about six o'clocke, if it be not inconvenient to you. I should have sent to you to-day, but was prevented. However, Sr, it may yett be ajourned if you are othere wise disposed. The doctors are sending me to Tunbridge ere long, soe that a warm foundation, before drinking those cold waters, will not be amiss for, Sr,
Your obliged, humble servant,
For Sir Richard Haddocke, these.     Isabella Critcheley." 
Having regard to the time-honoured industry of this ancient village, one cannot be but struck with the singular piscatorial nomenclature of silent occupants, of both the church and the churchyard; for we encounter numerous Salmons, Haddocks, and Hakes figuring upon both brassess and tombstones. Possibly, it is in the eternal fitness of things that they should repose peacefully here, in this rural God's acre, over­hanging the surging element which produces the species of commerce— with which we are all so well acquainted—and from which they have derived their names, and handed them down to a prolific progeny of succeeding generations.
Contigious to Leigh, is Prittlewell, a charming old place, with a history dating before the Conquest. It takes its name from a celebrated old spring in the Priory grounds, which fed many fish ponds in the vicinity. The manor originally belonged to Suene. Robert of Essex, his unfortunate grandson, founded the Priory in the reign of King Henry II. for monks of the Clugni order.   At the general dissolution of monasteries by Henry VIII., it was valued at£1,555 12s. 2d., and was granted to Thomas (Lord Chancellor) Audeley in A.D. 1527. In 1557, however, it was in possession of Lord Rich, and subsequently it passed into the hands of the Scratton family. It will be remembered that it was by the benefaction of Mr. Daniel Scratton, of this place, that St. Katherine's Church, Canvey Island, in 1745 was built and endowed. Standing on the summit of the hill, upon which the little town is situated, is the Parish Church, dedicated to the Blessed Virgin. It is a very ancient structure, in the early English style, with a lofty stone tower with pinnacles ; and can be seen for miles round—acting as a land-mark to mariners at sea. There are many old tombstones here, possibly the following are the oldest inscrip­tions :— "Hic jacet Thomas Wallch, qui ob 8 July, 1423;" and "Her undyr thiss Gravston lyeth buried Richard Brown, merchant, of Callys, dyed 1432 ; " and yet another one plaintively asks us, " To prey for the soul of John Lock the younger, and Margaret his Wyff, which to died A.D. 1522." There is also an old stone in the body of the church, "in memory of Mrs. Mary Davis, grand-daughter of the Right Honble. Thomas, Lord Wentworth, Lord Chamberlayne to King Edward VI."
We can now either return and see Raleigh, at passent, or go two miles further on and see Rochford, the most considerable town in the hundred. The old Manor House, called Rochford Hall, is a very stately building, and is celebrated as being the birth-place of Anne Bullen, one of the unfortunate wives of King Henry VIII., of polygamous memory. The church, dedicated to St. Andrew, is said to date from A.D. 1219,
Returning via the ancient village of Eastwood, through an enchanting pastoral country, we arrive at Rayleigh; and, as the town stands on a considerable eminence, very fine views of diversified scenery are to be obtained on every side. Rayleigh itself is of great antiquity, and was for­merly the most considerable town in the hundred, it being the chief of the Barony, belonging to Suene before the Conquest. Camden in his Britanniæ, says:—"Ralegh is a pretty propper towne ; and it seemeth to mee to be Ragenia in Doomsdaye Booke, wherein is mention made of a Castle that Suene heere built, in which also we reade thus:—'There is one Parke and six Arpennes of Vinyarde that yeldeth XX modii of wine if it take well.' This Suene was a man of greate name and nobel birthe, the Sonne of Wymarck, whose sonne was Robert de Essex. As for the Barony, it laid dead a greate while in the King's hands, untill Hubert de Burg obtained it from King John."
Some of the earthworks of Suene's Castle still remain, and are to-day called " Rayleigh Mounds." These consist of an earth mound, with an ovalshaped base, surrounded with a moat, and this again by a rampart, and a second ditch defended by an embankment. In some places it is regrettable to say that both moats and ditches are much broken and partly filled in. The church, dedicated to the Holy Trinity, is a very imposing Gothic building of great antiquity; and Weevor, writing in 1631, asserts that "Suene was buried here, but that his tomb grew so ruinous that as nobody was to repair it, it was of necessity carried away." The oldest stone in the church is to the memory of Jobis Barrington, dated 8th November, A.D. 1416. A large and substantial old oaken muniment chest, much worn and worm-eaten, with a bold array of substantial iron bolts and locks, of a decidedly mediaeval pattern, should not be overlooked.
It is supposed to date from the thirteenth century, and is at present exposed to view at the west end of the nave.
The town of Rayleigh to-day is a decidedly agreeable admixture of antiquity and modernity ; and its long-wide, main street, through which we proceed gives it the appearance of a thriving market town. We now return by the London Road, via South Benfleet, to Canvey Island.