01 - The History Of Canvey Island 1901
And Surrounding Neighbourhood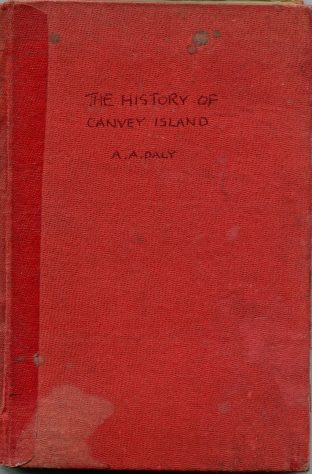 A couple of years ago I managed to pick up this copy of Daly's 'History of Canvey'. Unfortunately the cover must have been lost years before but someone had put a hard cover on the remainder which has preserved the pages that were left.
Augustus Daly was born in Ireland in 1852. He worked as a Journalist for many years. We believe he was retained by Frederick Hester to write this booklet to impress his investors and buyers. William Mecham aka Tom Merry was the illustrator, he is featured in our Art Section. This edition is dated 1901/2, Tom Merry died in 1902, later editions have additional pictures by J.J. Proctor.
CHAPTER I.
Canvey Island to-day.—Its Extent and Acreage. -Its Proximity to London.—Railway Communication.   Improvements, &c.
Canvey Island has an important if, as is a regrettable circumstance, an almost forgotten history. It is astonishing how little is known, or rather remembered, of the manifold items of historical importance, traditional association, and legendary folk-lore — with all its fascinating mythical reminiscences — pertaining to Canvey Island, and its immediate environments. This portion of Essex has, as a matter of fact, in the course of lapsed centuries, contributed much that is worthy of reproducing and recording—" lest we forget "—to the building up of the greatest Empire the world has ever known, and of which every Britisher has a substantial reason to be proud. The ruthless despoliation of ancient records—so carefully compiled in bygone ages and stored in monastic and other kindred institutions—by King Henry VIII. on the one hand, and the deplorable acts of wanton vandalism and callous iconoclasm, in the grand old Parish Churches of Essex by Oliver Cromwell on the other— have, doubtless, contributed considerably to deprive history generally of many interesting features that should, properly speaking, have belonged to it, and to have relegated them to-day to imaginative tradition, if not to total oblivion. Consequently, it is to be hoped the following pages will be appreciated not only by the present, but also by succeeding genera­tions of Canveyites and others, as a welcome addition to its historical research.
Canvey Island is about seven miles in length, four in breadth, and twenty-five miles in circumference. It contains about 9,000 odd acres of marshland, chiefly appropriated to the grazing of cattle and sheep. It is only thirty miles from London, and the nearest railway station to it is Benfleet, on the London, Tilbury, and Southend Railway, whence the Island can be easily reached by fording the causeway, locally known as Hadley Ray, which divides the Island from Benfleet, within five minutes' walk.
Favoured by Dame Nature, Canvey Island is most beautifully situated on the Essex Coast, at the estuary of the River Thames, facing the Kentish Hills, and boldly confronting, yet welcoming the German Ocean. It is well sheltered from the biting north and north-east winds, inasmuch as it nestles directly under the charmingly wooded heights of Benfleet, Thundersley, Hadleigh, and Leigh on the mainland, at an altitude of 350 feet above the sea level. It is somewhat enigmatical; but, properly speaking, Canvey Island is neither an island nor a peninsula, inasmuch as it is a singular admixture of both. It is undoubtedly a portion, of South Benfleet, on the mainland, from which it is diurnally divided for a few hours at high tide by a tributary of the Thames, known as " Hadley Ray "' or Canvey Creek. At high water it is pronouncedly an island, and recourse to it must be made by the primitive ferry; but at low tide it is decidedly a peninsula, because the receded tide enables the pedestrian to walk in comfort across the causeway from the mainland right on to the Island. The necessity for performing either of these now very necessary operations is shortly destined to disappear, as we are credibly informed that the local authorities and one of the largest landed proprietors of the Island, contemplate in the near future, permanently connecting the Island with the mainland by a substantial bridge capable of carrying a tramway, which will intersect the Island, and make its furthermost point easily accessible to all comers.
That the disappearance of this primitive yet picturesque mode of locomotion, the ferry, will deprive the Island of an air of romance we are prepared to admit; and its passing away into oblivion will, doubtless, cause many a pang of regret to swell in the bosoms of all lovers of the romantic and the antiquated. But, in these utilitarian days, consolation will be found in the fact that, with the abolition of the "Old Ferry" and the substitution of the "new" projected bridge and its tram line, both additional safety and comfort, and accelerated speed will be guaranteed to thousands who are to-day bent on making Canvey Island their per­manent local habitation.
Reverting for a moment, and speaking of coming generations, reminds us that Canvey Island, in the near future, is destined to blossom out and become one of the most popular and thriving health and pleasure resorts on the Essex Coast. All the preliminary elements for the fulfilment of this prophecy, are abundantly evident and clearly discernible on the Island itself, to-day, to the most casual of observers, and these signs of the times will be duly dealt with at length, and demonstrated by the present chronicler in another chapter. We must apologize for this momentary divergence, and will at once proceed to record the extremely interesting history of this Island of many icissitudes.