04 - The History of Canvey Island 1901
Chapter IV
Restoration of the Saxons. —Their final overthrow by William the Conqueror.—Canvey Island at the time of the Conquest.—Suene in possesion.—Partial Inundation.— Domestic Pursuits.—Pirates and Smugglers.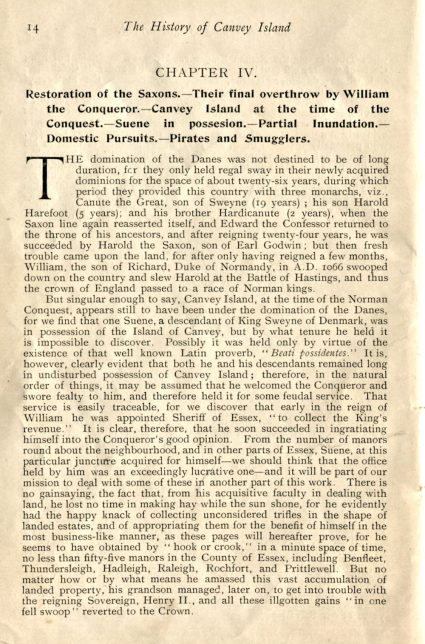 The domination of the Danes was not destined to be of long duration, for they only held regal sway in their newly acquired dominions for the space of about twenty-six years, during which period they provided this country with three monarchs, viz., Canute the Great, son of Sweyne (19 years) ; his son Harold Harefoot (5 years); and his brother Hardicanute (2 years), when the Saxon line again reasserted itself, and Edward the Confessor returned to the throne of his ancestors, and after reigning twenty-four years, he was succeeded by Harold the Saxon, son of Earl Godwin ; but then fresh trouble came upon the land, for after only having reigned a few months, William, the son of Richard, Duke of Normandy, in A.D. 1066 swooped down on the country and slew Harold at the Battle of Hastings, and thus the crown of England passed to a race of Norman kings.
But singular enough to say, Canvey Island, at the time of the Norman Conquest, appears still to have been under the domination of the Danes, for we find that one Suene, a descendant of King Sweyne of Denmark, was in possession of the Island of Canvey, but by what tenure he held it is impossible to discover. Possibly it was held only by virtue of the existence of that well known Latin proverb, "Beati possidentis." It is, however, clearly evident that both he and his descendants remained long in undisturbed possession of Canvey Island; therefore, in the natural order of things, it may be assumed that he welcomed the Conqueror and swore fealty to him, and therefore held it for some feudal service. That service is easily traceable, for we discover that early in the reign of William he was appointed Sheriff of Essex, "to collect the King's revenue." It is clear, therefore, that he soon succeeded in ingratiating himself into the Conqueror's good opinion. From the number of manors round about the neighbourhood, and in other parts of Essex, Suene, at this particular juncture acquired for himself—we should think that the office held by him was an exceedingly lucrative one—and it will be part of our mission to deal with some of these in another part of this work. There is no gainsaying, the fact that, from his acquisitive faculty in dealing with land, he lost no time in making hay while the sun shone, for he evidently had the happy knack of collecting unconsidered trifles in the shape of landed estates, and of appropriating them for the benefit of himself in the most business-like manner, as these pages will hereafter prove, for he seems to have obtained by " hook or crook," in a minute space of time, no less than fifty-five manors in the County of Essex, including Benfleet, Thundersleigh, Hadleigh, Raleigh, Rochfort, and Prittlewell. But no matter how or by what means he amassed this vast accumulation of landed property, his grandson managed, later on, to get into trouble with the reigning Sovereign, Henry II., and all these illgotten gains "in one fell swoop" reverted to the Crown.
Returning to our narrative, we find, from a quotation in Doomsday Book, that Canvey Island would appear about this time to have been in a bad way. It had barely recovered the shock of successive foreign invasions when it had to encounter a yet more powerful depredator It will be remembered, about this period, various parts of the coast of Great Britain were suddenly overwhelmed by an abnormally high tide, through some inexplicable natural marine convulsion. Amongst others the coasts of Essex and Kent suffered severely, more especially the latter. Its severity will be at once realized, when we recall the fact that a vast estate of the Earl of Godwin, on the Kentish Coast, was swept away into the surging deep, in a single night, and constituted the nucleus of what now constitutes the Goodwin Sands, that formidable enemy, so dreaded by the mariner even unto to-day. Therefore it is not at all surprising to learn that Canvey Island did not escape the consequences of the terrible visitation of this maritime upheaval, for we are told a considerable portion of it was submerged, and remained so for several centuries afterwards. Canvey Island from this sensational period to the accession of the Tudors seems to have settled down to a comparatively humdrum life, principally comprised of semi-nautical, piscatorial and agricultural pursuits, livened up occasionally by " brave deeds of derring-do," at the instance of bands of pirates and smugglers who seem to have continually infested this part of the coast.