Oysterfleet and Tewkes Creek
More Tunnels
Another tunnel story.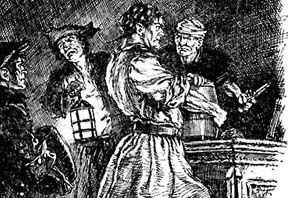 During the war years all the talk was of Nazi spys etc; and suspicion was, that the tunnel running from Oysterfleet Farm to the Benfleet Creek was of course aiding spys as they were landed by submarine in the dead of night.
To eight year olds the temptation to explore this for themselves was just too much.
In those days, school dinners were taken at the William Read School and this entailed a walking journey from Long Road Primary. This was seen as an ideal time to find the tunnel and make it safe, to foil the enemy.
A few of us, (memory I'm afraid gets dim as to all their names), but Nigel Wilfred, Derek Highness and two girls, Shirley Pigeon and Janet Groves come to mind, all duely shot off to the rear of the out­buildings, where we had been told the entrance lay. Looking back I cannot but be amazed that the entrance was there, unlocked and inviting.
Myself and two others, I forget just who, after much cajoling slipped through the door and proceeded, with no torch, some thirty or forty yards, before courage failed us and we turned tail and fled.
No Nazi………. No submarine…………. But definitely a tunnel.
Some years later, 1947-8 we discovered a tunnel entrance adjacent to the sea wall off the pre-1953 Tewkes Creek. This went seaward some 20 yards and was then blocked in by a fall. This became our gang H.Q. for some time.
I later went off to boarding school, but while there, I heard of another fall in the tunnel that had injured a boy, after which the entrance was filled in.
So yes ! tunnels did exist, and perhaps still do.