Sir Henry Appleton 1599-1649
2nd Baronet of South Benfleet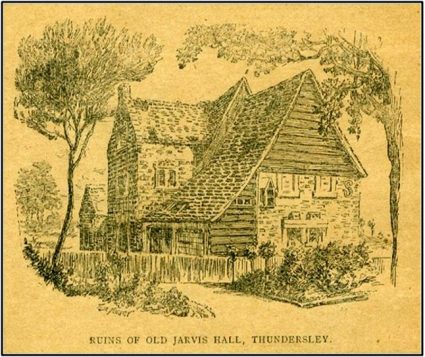 Although not a Dutchman, Sir Henry Appleton (2nd Baronet of South Benfleet) was the main landowner on Canvey Island at the time the Dutch came to inn the island. He was one of the main instigators and acquainted with Joas Croppenburgh. So it would be short sighted of us not to include the little we know of him in our Dutch Connection pages.
Sir Henry Appleton was born in 1599 the son of Sir Roger Appleton the 1st Baronet of South Bemfleet. Sir Roger was made a Baron in 1611 but died a few years later, his only son Henry became the 2nd Baronet.
Jarvis Hall, Thundersley was his home. (see picture right)
Sir Henry married Joan Sheldon followed it seems by two more wives.
He fought in the defence of Colchester in 1648, as a Royalist and died in 1649, in reduced circumstances. So it would appear he did not gain as much as Vermuyden and Croppenburgh from the inning of Canvey.
Two of his sons, Henry and William were to become 3rd and 5th Baronets of Benfleet.