I spent most of my summer holidays trying to get a photograph of a dragonfly.  Not an easy task.  They were easy to find on the island.  Just walking down Rainbow Road I would see 2 or 3 flying by.  The trouble is they are too fast when flying for a twelve year old with her first camera to photograph and they did not want to land anywhere for longer than 2 seconds either.
I had just about given up on ever getting my photograph when one Sunday afternoon at the end of the summer, my Dad called me round to the front garden of our house.  There it was, the prettiest dragonfly, sitting on our californian lilac bush, with its wings spread out and glistening with rainbow colours.  One of its wings was damaged but it was still a beautiful sight.  The dragonfly stayed completely still for several minutes, so I had plenty of time to run in and find my camera (that took awhile) and take a few photographs.  This was the best one.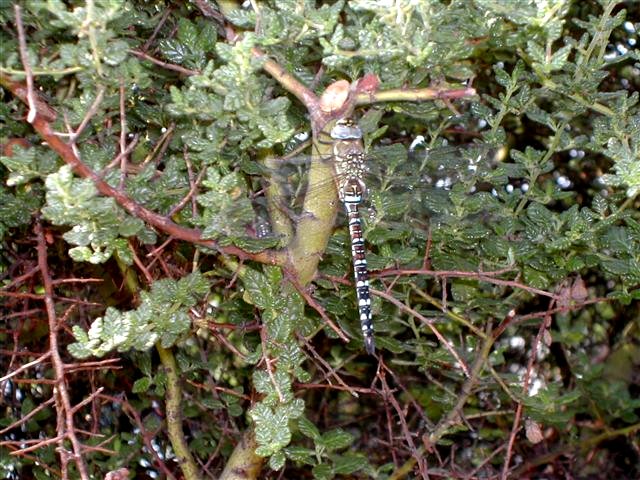 What is a Dragonfly?
The dragonfly spends most of its life in the air.  It has two pairs of wings and it is the fastest of the insect fliers.  Some varieties can reach speeds of 300 kmh (190 mph).  The dragonfly has as many as 30,000 lenses in each eye (compound eyes) and it can see up to 15m (50ft) away while flying.  Dragonflies seen flying together are usually a mating pair.  They lay their eggs in water.
Dragonflies are predators.  They catch other insects in flight by holding out all of their spiny legs in front of them to form a basket.  Flies, beetles and even bees fly into this basket trap.  The dragonfly sometimes uses the basket to scoop insects up from plants or the ground.  Once in the basket the unfortunate insect finds itself chomped on by the dragonfly's powerful jaws.
The dragonfly larva lives in water.  It feeds on insects, small fish and tadpoles.  It catches its prey with a specially hinged lower jaw.  This jaw can shoot out suddenly and has 2 hooks on the end of it which spear the prey so that it can be pulled back into the waiting mouth.  When closed this lower jaw covers most of the face, so the larva looks like it is wearing a mask.