The Rescuers Wildlife Sanctuary
Every Story Starts Somewhere
The Rescuers Wildlife Sanctuary, first registered with the Charity Commission in 1997, is situated in Watlington Road, Benfleet.  It is well known in the county for its excellent work caring for our wildlife, providing a home, be it temporary or permanent, for many animals.  What may not be so well known is that this charity had its humble beginnings nearly 30 years ago in a terraced house in Link Road, Canvey Island.
The Charity's founders, Veronica, and Rye Mepham, have been keen animal enthusiasts all their lives and began their involvement in charity work with the Essex Badger Protection Group.  Then one day they were given a fox cub which had been found by someone's dog.  The fox (named Bonnie by a Scottish vet who administered to her) had epilepsy and needed medical attention and a permanent place to live.  Veronica and Rye tried to find a sanctuary to take Bonnie in but discovered that at that time there were no sanctuaries for wildlife in the whole of Essex.
They were so determined to help the fox cub that they decided to take on the job themselves, providing her with a pen in their back garden; nursing her and giving her the necessary lifelong medications.  For the next sixteen years Bonnie had a loving home with the couple.  This would become the start of the Rescuers Wildlife Sanctuary.
There were no complaints from their neighbours, indeed they were all quite fascinated.  The children especially loved to come and watch the fox cub grow up.  Veronica joked that "half of Canvey trooped through my house."
One such Islander was Janet Penn.  She recalls – "there was a small bird, I remember it being a sparrow that had got its head stuck in a bird feeder in my back garden.  I could not place the bird in a box as it was struggling so much so I carried it in my hands complete with the bird feeder round to Veronica's house in Link Road.  It was the first time I had had occasion to ask for her assistance but I had known Veronica for some time and knew much about the good work that she and her husband had been doing helping wildlife.  Veronica quickly dealt with the bird's unfortunate situation.   She applied fairy liquid to its feathers around the neck, massaging it in, both calming the bird and slowly flattening the feathers so she could gently remove the bird from its captivity.  I was amazed that she did all this while we stood chatting in her kitchen – a surreal experience. "
"After cleaning the bird up and checking it over Veronica placed the bird in a bird cage for me to take home, instructing me to release it back into my garden when it was rested from its ordeal.  When I opened the cage later that day the bird flew off quite happily."
On another occasion one of Veronica's neighbour's had a small cat called Nimbus, she found her way through the chain link fence into Bonnie's pen.  Nimbus was only a five week old kitten at the time and Bonnie was fully grown but quite tame.  Bonnie had come bounding over to say hello to her visitor and Nimbus seeing this huge fox bearing down on her had hissed back prepared for the worst but the two of them soon became firm friends.  When Nimbus got too big to fit through the chain link fence she would sit outside Bonnie's pen and the cat and fox would kiss each other through the mesh.  Nimbus later made a home for herself with Veronica at the Sanctuary and right up until the day she died would walk around the entire Santuary checking on all her animals – her 'family'.
The couple later took in other foxes and birds and it was soon apparent that their garden was just not big enough to provide homes for all the animals that needed their help.  By this time they had three full grown foxes in pens and an aviary full of birds.  "There was no room for my washing!"  Veronica laughingly told us.
They approached the council for some available land to create a permanent animal sanctuary and were offered a piece of waste land in Benfleet that had originally been the old sewage works.  A lot of work was needed to clear the site of rubble and make it suitable for its new purpose and once the animals were being transferred to their new home, a guard had to be present each night to protect them.  This job would often fall to Rye who would spend his nights out at the Sanctuary after already spending a full day at work.  Veronica said we were like ships that pass in the night, I would be at the Sanctuary all day then Rye would be there all night – we found we never saw each other.
They decided to try and obtain a permit for a mobile home on the site and sell their home on Canvey.  It would take nearly three years for councillors to agree.  Veronica said that Dave Blackwell in particular was very supportive.  By this time Veronica had suffered a major stroke and had almost lost her sight.
They had looked forward to having a nice new mobile home with all the mod cons but soon discovered that new mobile homes were only available ten foot wide and unfortunately the bridge that it would have to pass under on route to the sanctuary was only nine feet wide.  Not to be defeated they purchased a much older mobile home, stripped it completely and then rebuilt it themselves on the site.
Over the years the Sanctuary has received a huge number of animals, ranging from foxes and hedgehogs to more domestic and farm animals like guinea pigs and goats, as well as an assortment of birds.  These animals are provided with temporary or permanent homes depending on the individual animal's needs.  In November 1999 the Sanctuary was involved in assisting a 'lost' Stag which had been found on Thorney Bay, Canvey Island.  They helped to find the Stag a new home at a wildlife park.  Both Veronica and Rye have cared for up to 20 fox cubs at any one time, providing feeds at regular intervals throughout the night.
The owls at the Sanctuary are all unwanted pets.  They have a fine life in their new home and many of them have even appeared on film in the major motion picture Harry Potter and the Goblet of Fire.  Although one owl in particular, Yogi, was sent home from the movie set early because he kept making Daniel Radcliffe laugh.
Veronica also told us of a story of Jack, an albino crow they took in which after being released used to sit on their gate and caw at people as they walked past.  There was one particular elderly man who would regularly walk by with his dog and Jack delighted in tormenting him.  He would pluck the man's hat from his head, drop it a little further along the road and sit by it with one wing over it, daring the man to try and retrieve it.  Veronica often had to go out and rescue this poor man's hat.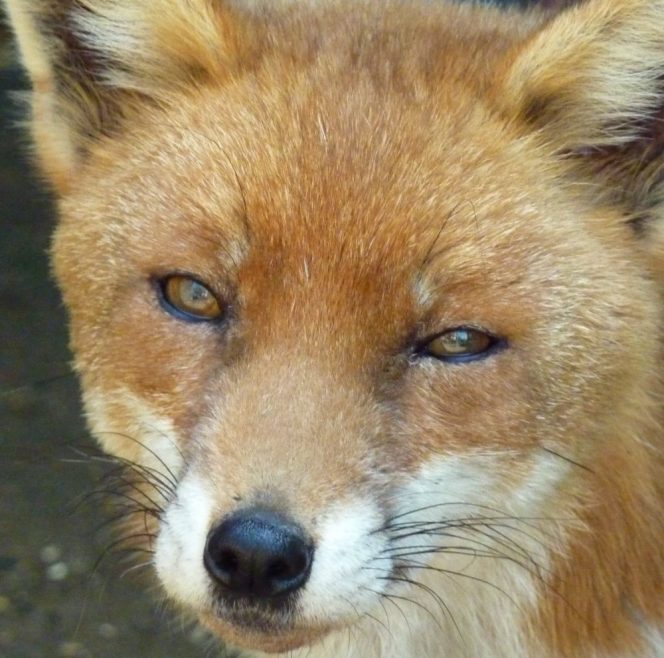 During our own visit to the sanctuary a lady came in with a baby blackbird that had a badly twisted leg and a man brought a small hedgehog from his garden which was taken into the hospital for immediate care – it had unusually long claws and Veronica thought it may have been kept in captivity.
Veronica has recently turned seventy along with her husband Rye, continue to run the Rescuers Wildlife Sanctuary with all the commitment and devotion that they showed in those early days on Canvey Island.  With their team of volunteers and the support of the general public they endeavour to ensure the welfare of Essex's wildlife for many years to come.
~~~~~~~~~~~~~~~~~~~~~~~~~~~~~~~~~~~~
Many thanks Veronica for making us so welcome.