The five thousand
Eularia Clarke (1914-1970)
I found this oil painting on this website The Methodist Church Collection of Modern Christian Art and was rather surprised to see that Canvey Island was the inspiration for the painting.
~~~~~~~~~~~~~~~~~~~~~~~~~~~~~~~~~~~
1962
Methodist Collection of Modern Christian Art, No.6
Commentary by Francis Hoyland
Eularia Clarke was inspired to produce this picture while eating fish and chips at Canvey Island.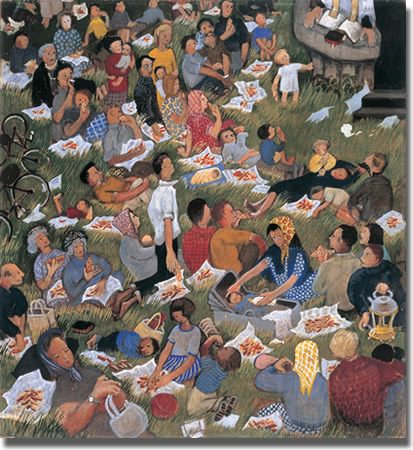 'She wrote of the fear she felt about painting Our Lord and how she only felt able to include a priest – and only half a priest at that – in the top right hand corner of the painting, as a kind of surrogate for him. Besides this the priest is engaged in the most secular part of the Mass for he is reading the parish notices after he has finished his sermon……………………………..
………………………….Another strange thing about this picture is that it is happening during Eularia Clarke's lifetime not in 32AD or thereabouts. Here again we have an anti-type – that is Eularia's experience at Canvey Island – setting off the resonance of the 'type' of the actual feeding of the Five Thousand, which was itself a ' type' of the Eucharist so, for her, everything was working together……………………
………………It is clear that Eularia needed to have seen the crowd at Canvey Island in order to paint this picture and this fact seems to embody a spiritual truth.'