Linda Kendrick
Successful singer and actress of the 'sixties and 'seventies
It may not have been the only pivotal moment in Linda Kendrick's singing career but the abolition of the Lord Chamberlain's power of theatre censorship in September 1968 certainly created an enormous opportunity for the young up and coming singer.
For that change in the law enabled the Shaftesbury Theatre in London to throw open its doors the very next day and stage the American rock musical, Hair. The musical was undoubtedly controversial with its long haired hippies depicting the use of illegal drugs and open sexuality coupled with the brief, but much publicised, nudity scene.  It was headline grabbing stuff but notoriety is no bad thing when it comes to the box office.
On that Shaftesbury stage singing generation defining numbers such as Good Morning Starshine was a teenage Linda Kendrick, standing alongside many household names of today, including Elaine Paige and Tim Curry.
In fact, by the time Hair was to arrive in London, Linda had already established herself as a cabaret singer of some note.  She had released records including her first single,  It's the Little Things, in May 1966 when she was backed by the well known Labybirds.  Nevertheless, undoubtedly the production of Hair was a major stepping stone in her life as an entertainer.
She was born in 1952, the second of three daughters, and came to Canvey Island in 1959 with her parents and sisters. Peter, her father, remembers, "She was a normal happy little girl and we didn't realise that she might have something unique until somebody came up to us and said 'Your daughter did ever so well at the competition'. She was about twelve at the time and had gone into a talent competition at the cinema (now the bingo hall) and won. We didn't even know she was going in for it."
That local talent show marked the beginning. Discussing it with her family, young Linda decided that she wanted to be a singer. Lots of young lads at the time had got together and started bands or groups, usually a 'Beatles style' line up of four and Linda joined in with a local group and started practicing in the family lounge. Even at the early age of 14 she was starting to find a little bit of local work with the group. Peter adds, "I was running her about in the car for a couple of years to performances, most of them relatively local. Then the Barn in Braintree heard about her and that was really her first professional position. She started to sing there where she was backed by full time musicians."
From that opportunity it wasn't long before Linda was signed up with professional London management in the shape of Ann Bishop and was soon touring the country with top artists from the UK and overseas. "Linda was on the 'number one' club circuit," recalls Peter, "performing in some northern clubs with audiences of over 1000 a night.  We were following people like Dusty Springfield and Cilla Black.  Linda was really confident by then.  We would travel to the next venue and she would quickly work out her set with the musicians and within half an hour she would be on. She was only 16 but she wasn't at all daunted by it."
Then came Hair.  Linda went through the auditioning process and won the part of Jeannie in the show's line up. This was going to be hard work, performing six days a week plus matinees but Linda saw this as an opportunity to get her name in lights.
Of course the show was actually set to run for almost 2,000 performances in London, more than its Broadway counterpart and Linda was there for much of the first year before a problem developed and she had to rest her voice for a week or so. Of course Linda occasionally took a two day break to come back and visit her family on Canvey. On more than one occasion she took this opportunity to visit Furtherwick Park School and use her success to give inspirational talks to the pupils, urging them to really 'go for it' if they want to be successful in life.
After appearing in Hair Linda's career developed in several directions. She started doing television work on the continent, both in Germany and in Holland, often flying in and out in one day to return back to the UK. She also appeared on UK television including Z Cars which was a high profile police series which stared Brian Blessed in its cast. Singing was, of course, her real forte and she won a high profile slot as the resident singer in a Mike and Bernie Winters television series. Mike and Bernie constituted a major comedy double act of the time.
Television may have become a major focus but Linda hadn't lost contact with the stage. She was in a show called Fire Angel at Her Majesty's theatre in London. This production was a modern take on Romeo and Juliet but didn't last long, just four weeks, before the curtain came down for the final time. Another production, Shoot Out at Elbow Creek, failed to make it to the West End stage after a negative review by a well known critic signalled its early demise.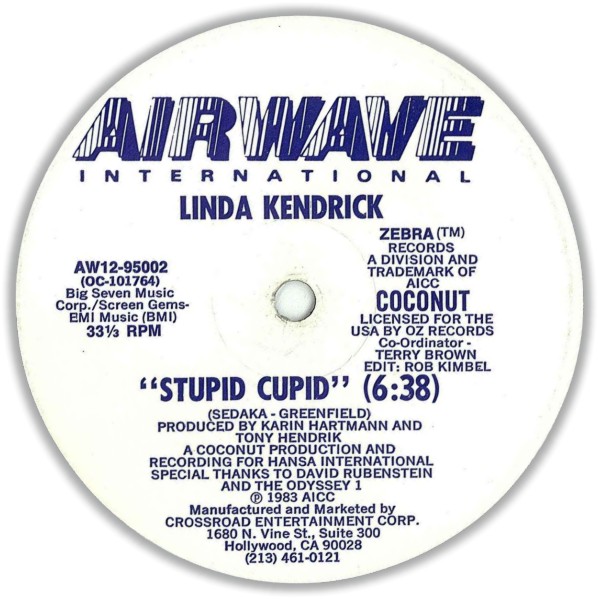 Nevertheless, if those two productions failed to emulate the fame of Hair, Linda herself was still enjoying every success and went touring in the US with Elton John and The Kinks. In all she released a dozen or so records in the sixties and seventies including Stupid Cupid, Faith Hope and Charity, Grey Sunny Day and I Will See You There.
Meantime she had met John and they were married. They had a son but, still in her early twenties, tragedy was about to enter Linda's life. Her husband died at the age of just 25. Her young boy had a heart problem. Within the space of a year, she had lost them both.  Not surprisingly Linda took time out from public life. However, she found love again and moved to Cologne where she settled down and had another son. She was still making records and was back on the cabaret circuit but this time in Germany working in Munich and Berlin.
Yet, her life in the spotlight was drawing to a close.  Her father recalls talking to her when she was about thirty, "She said to me that she had never really got a major hit record. She felt that she never found one that really clicked with the public and believed that if she came back to London she wouldn't get that chance now".  When she returned to the UK she moved to south London and led a quite life and in November 2010 she sadly died of pneumonia.
She is far from forgotten, however. On 25 August 2013, a festival is being held in her memory. There will be a charity walk from the Monico to the Lobster Smack pub.  From noon to early evening there will be a free concert with local bands plus performers from several London musicals – cast members from Oliver, Glee, Les  Miserables and Wicked. These young performers are members of the "Dream Team" managed by Louise Kendrick Fields, Linda's younger sister. Click on the poster in the gallery below for full details of the festival.
Listen to Linda singing by clicking on this record Faith, Hope and Charity.