More photos and information from Ray Hamilton in New Zealand about Edward Parker (Uncle Sam) and his minstrels. Ray says: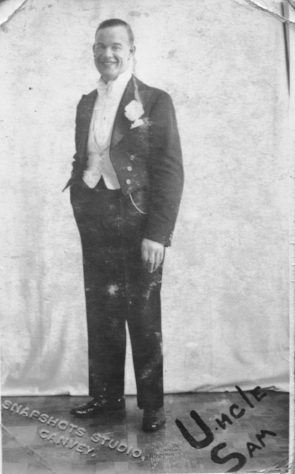 As far as I have worked out Ted was born in c1900, in Yorkshire, possibly Leeds.
Amy, I believe was born in 1898, in Shoeburyness, Essex. The reason being is that I have a photo of a house stating, Amy's Mother & Fathers house, Shoeburyness 1916.
Also, another photo, with Amy and Teddy (their son) dated 1917, which would indicate that they were already married at that time.?.
I'm not sure when Amy died, I know Ted would have told me, but I cannot remember. Amy was in Rochford Hospital in 1955/56, so I believe it was around that time.
I think they were living in Tylers Avenue, Southend at that time.
The photo is Canvey Island 1938, Ted with Amy to his right, the lady on the left could be Amy's mum? You may recognize the location from the hotel in the background.
Well I can report that Edward was born in 1895 probably in Hull, Amy Flora nee Brockes, was born in 1899 in Shoburyness. The couple were married in 1917 in Yorkshire and their son Edward was born in August of that year in Rochford District of Essex.
In 1939 the family were living at Ramuz Drive in Southend.