The Dutch Chapel
written by John Southerden Burn in 1846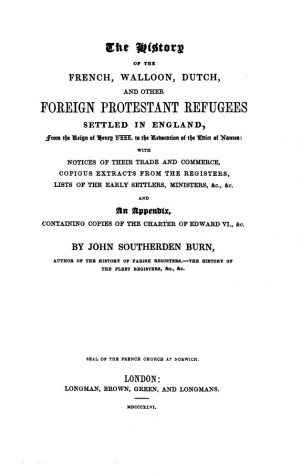 This is an extract from 'The History of the French, Walloon, Dutch and other foreign Protestant Refugees' by  John Southerden Burn. The book was published in 1846 and it gives an account of the Dutch Chapel on Canvey Island as well as the lovely drawing below. They do not say who did the illustrations.
Part of the extract, with some omissions, appear in the later book by Philip Benton in his 'The History of the Rochford Hundred'.
This Island (which is situated in the Thames, near South Bemfleet in Essex,) being subject to be overflowed by high tides, Sir Henry Appleton and others, then owners of the lands here, agreed by deed dated 9th April 1622, to give one third of the lands in fee simple to Joas Croppenburgh, a Dutchman skilled in the making of dykes, in consideration of his suffici­ently inning and recovering this Island, then usually over­flowed at every spring tide, at his own costs and charges. This agreement was by consent made a decree of the Court of Chancery 27th February 1622-3. The third of these lands is now applied to the repairs of the sea walls.
A timber chapel was built here for the use of the Dutch inhabitants employed in draining the Isle. It being decayed another was built at the charge of Mr. Edgar, an officer in the victualling office, and consecrated 11th June 1712. This being also decayed, a new one was built about the year 1745, partly by a contribution of the inhabitants, but mostly by a benefaction of the late Daniel Scratton, Esq., the owner of considerable estates in Prittlewell. He also gave part of the tithes to trustees to pay £10 a year to the vicar of Prittlewell, the better to enable him to perform divine service here; and £10 a year more to the minister or curate duly appointed to preach twenty sermons in St. Catherine's Chapel in this Island.
From papers at the Dutch Church, and from the books of the " colloque" the following particulars have been gathered.
The first notice of the congregation is on the 3rd of Sept. 1641, when they were represented at the synod held in London by their minister Mr. Cornelius Jacobsen, and their elder Peter Priem. At the synod in 1644 they were represented by their minister Mr. Abraham Busk, and in 1647 by their minister Mr. Daniel Katelar.
In 1655 the following persons held the offices of elders, deacons, &c, in this church:—Anthonius Diericksen, Peter Priem, Gilles Van Belle, Steven de Kien; and a paper dated 2nd of Sept. 1655, is signed by—
Pr Boije
Jan Malstof
Anthenin de Smedt
Anthenne Lanvijcke
Daniel Rosel
Jan Van Gent Bruygghe
Matthieu Lucsie
Franchois Manandijse
Guilliame Manandijse
Robert Walspeck
Adriaen Vander Biest
Andrew de Clerck
Maximilen Rousselle
Jan de Vos
Jacob Polley
Cornelius (Amplut)
Jacob Amplut
Cornelius Classen
Yacop Clement
Heninghe Cornelys
Masm Steenighe
Marijnes Claeijsen
Jan de Schildeze
Pieter Veijneer
Volant Sanders, &c, &c.