The Novel 'Captain Shannon'
By Coulson Kernahan 1896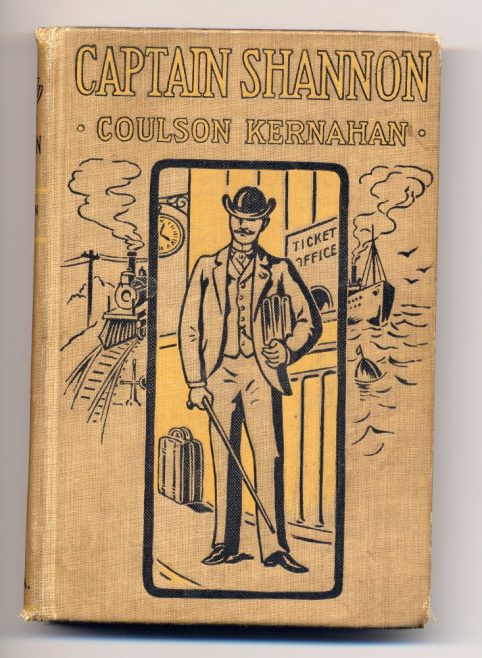 Kernahan, (John) Coulson (1858-1943), writer and promoter of compulsory military service, was born at 2 Prospect Place, Ilfracombe, Devon, on 1 August 1858, the elder son and third of the eight children of the Revd James Kernahan MA PhD FGS (b. 1825/6), a Congregational minister who was the author of a commentary on the New Testament and also an amateur geologist, and his wife, Comfort, née Plowman (b. 1828/9).
His parents were both born in Ireland. He was educated at home by his father and at St Albans School. He later wrote that he learned little at school 'bar a code of manners which I hold to this day' and 'learning to hold my own-in point of fact, to fight' (Kernahan papers, U. Reading).
Taken from the Oxford Dictionary of National Biography.

The novel Captain Shannon was written in 1896 and Illustrated by F S Wilson, does not appear in the biography however I did find this description online:
Kernahan's Captain Shannon (1896) has as its protagonist a cross-dressing Irish anarchist, probably modelled on Oscar Wilde – Kernahan and Wilde were friends, Wilde was a vocal supporter of anarchist causes – who once again brings London to a standstill with an astonishingly bloody bombing campaign.

I found the book quite interesting and it reminded me a little of Sherlock Holmes. My mind was however drawn away from the plot as I followed the descriptions of places such as the Royal Hotel in Southend, Fenchurch Street London as well as in and around Canvey Island.
The writer, as Max Rissler Esq decides to turn detective in pursuit of Captain Shannon who by a shear fluke Max had identified as James Mullen a man he had shared a carriage with on a trip to Southend. With help from friends Rissler checked out all possible places Mullen could have been hiding in Southend including the Nore lightship. The dynamite Hulks off Canvey Island suddenly occurred to him.
He writes of Canvey and The Dynamite Hulks :
'No one who has not visited Canvey would  believe that so lonely and out-of-the-world a spot could exist within thirty miles of London. Just as we sometimes find, within half-a-dozen paces of a great central city thoroughfare, where the black and pursuing streams of passengers who throng its pavements never cease to flow, and the roar of traffic is never still, some silent and unsuspected alley or court into which no stranger turns aside, and where any sound but that of slinking footstep is seldom heard, –so, bordering the great world-thoroughfare of the Thames, is to be found a spot where life seems stagnant, and where scarcely one of the thousands who pass within stone's throw has ever set foot.
Where the Thames swings round within sight of the sea, there lies, well out of the sweep of the current, a pear-shaped island, some six miles long and three miles broad, which is called Canvey.
Three hundred years ago it was practically uninhabited, for at high tide the marshes were flooded by the sea, and it was not until 1623 that James I. Invited a Dutchman named Joas Croppenburgh and his friends to settle there, offering them a third for themselves if they could reclaim the island from the sea. This offer the enterprising Dutchman accepted, and immediately set to work to build a sea-wall, which so effectually protects the low-lying marsh-land, that, standing inside it, one seems to be lower than the water, and can see only the topmost spars and sails of the apparently bodiless barges and boats which glide ghost-like by.
But the most noticeable features in the scenery of Canvey are the evil-looking dynamite hulks which lie scowling on the water like huge black and red-barred coffins. Upwards of a dozen of these nests of devilry are moored off the island, and they are the first objects to catch the eye as one looks out from the sea wall.'


There is a lot more of interest. The book can be downloaded or read online here.
Lots more about the Dynamite Hulks can be found here.
And did he get his man? I will let you find that out for yourself.