Two new books
Fiction based on Canvey
Two fiction books based on Canvey Island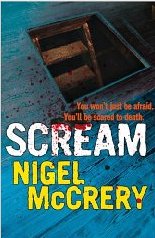 Scream by Nigel McCrery
Description:-
A woman screams in pain. Twenty-seven times, until she dies. The sound file was sent to DCI Mark Lapslie from an anonymous email address. Why is she screaming? Why would someone record that horrifying noise? And why send it to him?
He soon learns that the file was sent from the hospital where he is being treated for synaesthesia – a neurological condition that cross-wires his senses so he tastes sound – and where his new girlfriend works. When a body is discovered, the most shocking murder scene Lapslie has ever encountered forces him to realise there is a violent killer out there, a killer whose method of choice is torture. Will Lapslie find the killer? Who will have to die before he does?
'You need to listen to this.' DCI Mark Lapslie receives an anonymous email bearing this strange subject line at a terrorism conference in Pakistan. Opening the attachment, he hears a woman scream. In all, she screams twenty-seven times before her final death rattle is heard. Horrified by the message, Lapslie decides to head home early and investigate. But when he finds out the message was sent from the hospital where his new girlfriend works and where he's undergoing treatment for his synaesthesia – a neurological condition that confuses his senses so he tastes sound – he's none the wiser. Who is screaming? Why? And who on earth is making them scream? Meanwhile, his DS, Emma Bradbury, is dealing with a murder victim who's been brutally tortured and dumped on an island in the Thames Estuary where outsiders are greeted with distrust and fear. As he begins investigating, desperate to get to the bottom of the screaming voice, his questioning of a minor leads her father to make a case against him. Just as he and Emma unearth a string of kidnappings, torture and brutal murder, he is taken off the case. Unable to work, Lapslie is forced to sit around, while the killer comes far too close to home..
Review:-I thoroughly enjoyed the story and it is nice to see someone taking the time to find out about Canvey's history but when it came to the policeman talking almost none-stop covering about a hundred years of our history it was a bit OTT.
~~~~~~~~~~~~~~~~~~~~~~~~~~~~~~~~~~~~~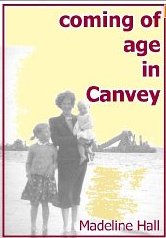 Coming of Age In Canvey by Madelaine Hall
Description :-
'As if I hadn't enough on with one child on my hands, I took him home. And thereby hangs a tale.'
'To cut a long story short: reader, I married him. So here's the back story.'
'I told her if she wasn't in bed by midnight to come home.'
Recently Essex girls have somehow won a reputation for being brainless sluts. This book won't set the record straight but it presents an alternative view.
These are the stories of sisters growing up in south Essex in the sixties and seventies. One stayed home and brought up babies whilst the other took the hippie trail east and brought back her man from Pakistan, a marsh Arab, Pitsea marshes that is. Later they reversed positions, one moving lock, stock and barrel for a new life in France, the other finally grounded in Canvey.
Canvey's oil refineries continue to light the night skies – a celestial city all its own. The daily reality of life alongside industrial plant is less romantic but islanders survive and thrive. They look to their own and have a thought too for the oil fields of Pakistan where their raw product comes from. Cheer up, things could be worse.
Mary and Alex are both witty and wise, mostly. When Mary's doubt in her own abilities combines with Alex's belief in her own infallibility both can come a cropper. Smartness and sympathy see them through to success in the search for a good life and the creation of new life.
New life here is both human and horticultural. Reproduction, sexual and vegetative, runs right through yielding a fine crop of dirty jokes and earthy humour. Read this book for an insight into Essex characters, from home and abroad, and a better understanding of horticultural Latin.
Review:- I am afraid I found this book boring and hard to follow and she skitters about all over the place, other people may well like it. As far as Canvey is concerned-where are these oil refineries then? I know the book is fiction but you should do the research if writing about a place that exists.