In The Fens Of Essex, 1773
Excerpt from William Hone's Everyday Book
Sir,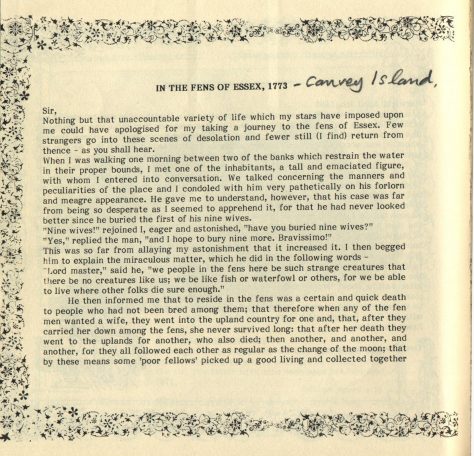 Nothing but that unaccountable variety of life which my stars have imposed upon me could have apologised for my taking a journey to the fens of Essex. Few strangers go into these scenes of desolation and fewer still (I find) return from thence – as you shall hear.
When I was walking one morning between two of the banks which restrain the water in their proper bounds, I met one of the inhabitants, a tall and emaciated figure, with whom I entered into conversation. We talked concerning the manners and peculiarities of the place and I condoled with him very pathetically on his forlorn and meagre appearance. He gave me to understand, however, that his case was far from being so desperate as I seemed to apprehend it, for that he had never looked better since he buried the first of his nine wives.
"Nine wives!" rejoined I, eager and astonished, "have you buried nine wives?" "Yes," replied the man, "and I hope to bury nine more. Bravissimo!" This was so far from allaying my astonishment that it increased it. I then begged him to explain the miraculous matter, which he did in the following words "Lord master," said he, "we people in the fens here be such strange creatures that there be no creatures like us; we be like fish or waterfowl or others, for we be able to live where other folks die sure enough."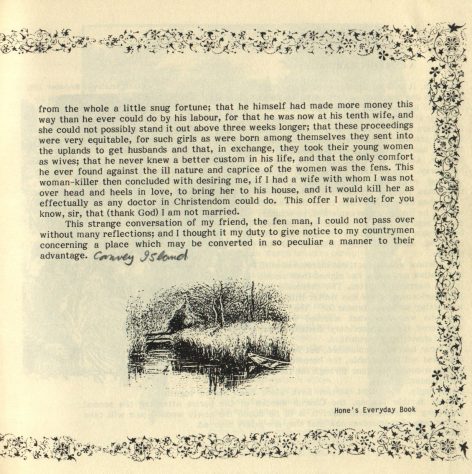 He then informed me that to reside in the fens was a certain and quick death to people who had not been bred among them; that therefore when any of the fen men wanted a wife, they went into the upland country for one and, that, after they carried her down among the fens, she never survived long: that after her death they went to the uplands for another, who also died; then another, and another, and another, for they all followed each other as regular as the change of the moon; that by these means some 'poor fellows' picked up a good living and collected together from the whole a little snug fortune; that he himself had made more money this way than he ever could do by his labour, for that he was now at his tenth wife, and she could not possibly stand it out above three weeks longer; that these proceedings were very equitable, for such girls as were born among themselves they sent into the uplands to get husbands and that, in exchange, they took their young women as wives; that he never knew a better custom in his life, and that the only comfort he ever found against the ill nature and caprice of the women was the fens. This woman-killer then concluded with desiring me, if I had a wife with whom I was not over head and heels in love, to bring her to his house, and it would kill her as effectually as any doctor in Christendom could do. This offer I waived; for you know, sir, that (thank God) I am not married.
This strange conversation of my friend, the fen man, I could not pass over without many reflections; and I thought it my duty to give notice to my countrymen concerning a place which may be converted in so peculiar a manner to their advantage.
~~~~~~~~~~~~~~~~~~
In the original text from Hone's writings it actually stated:-
Laying Out Of Wives
In the Fens of Essex and Kent
And, first, as to this "grave" custom on the London side of the Thames, we have epistolary testimony of a writer in the year 1773.
Canvey Island was not mentioned specifically but it is very well known that the area was afflicted in this way.