Just Jill
The Autobiography of Jill Allen-King MBE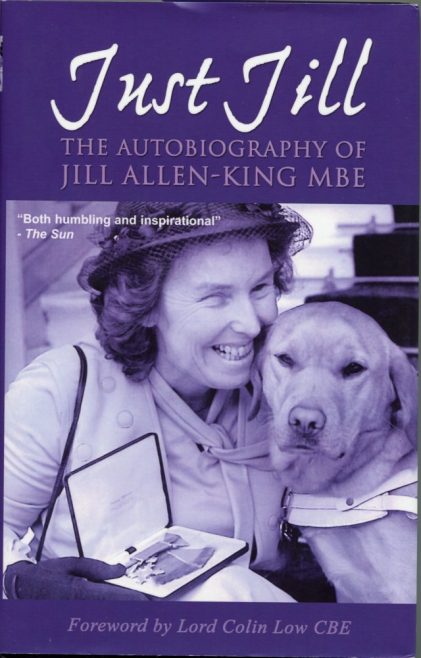 I met Jill at the service to unveil the new plaque to the victims of the 1953 flood. She was there with her friend Cynthia and their guide dogs. It was a pleasure to talk to her, she told me about her book 'Just Jill' which is an inspirational and moving account of one woman's triumph over adversity and how she used her own experience of disability to benefit others. Jill had unfortunately lost her sight in one eye as a baby when she caught measles and lost the sight of her other eye on her wedding day from Glaucoma.
"Jill Allen king was born in Southend Hospital in 1940 during WW2. In spite of being partially sighted, she was able to enjoy a fairly normal childhood and, on achieving a catering qualification, worked as a cook. On losing her sight completely at the age of 24 she embarked on a journey of self-rehabilitation, gradual readjustment and learning, until she finally regained her confidence and independence. She has never allowed the fact that she has lost her sight to hold her back, and she dedicated the rest of her life to voluntary work, campaigning tirelessly to improve facilities for blind and disabled people. Jill currently chairs the European Blind Union Commission on Mobility and Transport, a position she has held for the past 13 years, and the National Federation of the Blind's Environment Committee. She was awarded the MBE in 1983. Jill lives in Essex with her second husband, Alvin, who is also blind, and her sixth guide dog, Amanda. She has one daughter, Jacqueline and two grandchildren, Joseph and Emily." From the sleeve of the book.
The archives interest in Jill and her book start with her grandparents Pauline and Alfred Griffith who lived in Enfield but had a holiday home on Canvey Island which was called 'Dickies Nook' which was in the Newlands area. Jill remembers many happy holidays there. Her parents Alfred and Maude Griffith moved to Benfleet after their marriage in 1937. She remembers the floods of 1953 where her aunt and uncle, William and Edith White lost their lives. They lived in Newlands Road in the area that took the first and biggest hit. We do not know exactly what happened to them but the Inquest that was held on the 20 Feb 1953 said the cause of death was Asphyxia due to Drowning by flood water.
Jill was only 13 at the time but she found herself involved with the aftermath and this is what she says about her experience. This book is well worth a read and some of the money she raises goes to charity.
"The year 1953 was a year I would never forget. It started with the Canvey Island floods, in which my aunt and uncle were drowned. They had retired to Canvey from Mill Hill, buying a bungalow next door to my grandparents' bungalow in Newlands Road, which was very close to where the sea wall broke. Aunt Edie was one of my grandfather's sisters. Uncle Bernard and my dad had gone out in a boat to try to rescue them, but the water had reached the ceiling of their home. Fortunately my grandma and granddad were not down for the weekend from Enfield. A local reporter came to our bungalow to telephone the story of the floods through to the national press.
As my school was used to accommodate people whose homes had been flooded, we had three weeks off school. One of my dad's friends worked for Hawkins Electrics and provided washing machines in the Benfleet school, where we helped to do the flood washing. It was while we were there that we met the Queen Mother, who was visiting all the flood areas. After the floods subsided we took the washing machines over to Canvey and did the washing in the British Legion Hall. I actually spent my thirteenth birthday there and can remember my grandma and Uncle Bernard bringing me a clock as my birthday present. Although Uncle Bernard lived on Canvey until he died in 2000 and I would visit him there many times, I would never sleep there after the floods."