Lure and Lore of London's River
Book by Albert Gravely Linney (1873-1936)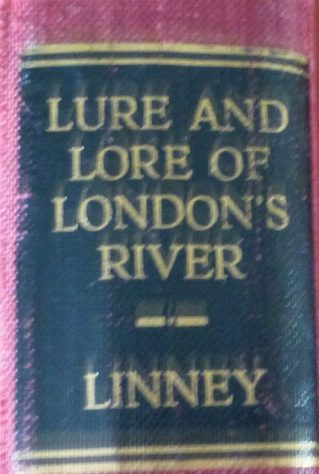 Albert Gravely Linney (1873–1936) was a writer and journalist and a keen amateur photographer.  Quote from the Museum of London website –  'In 1925 he became the first editor of the new Port of London Authority Monthly Magazine and it was in this capacity that he was able to fully explore the working Thames and its riverbanks'.
During his time roaming the Thames he took many photographs of Canvey Island some of these we are hoping to show shortly. He did not use any of these pictures in this book but there are a couple of descriptions of Canvey which are well worth noting,
As we come abreast of Canvey Point at the eastern extremity of Canvey Island, Sea Reach has narrowed to a width of four or five miles, and it becomes possible to gather something of the nature of the banks. In Kent, far across the expanses of the Blyth Sand, with its thousands of wild birds in winter, great fields come billowing down towards the water. The countryside is wooded, and lone farmsteads pick themselves out here and there. Through the glasses one may discern a spot where some attempt is being made to establish beach huts and the beginnings of a resort at All Hallows; but otherwise for miles the Kent shore is pastoral. Looking across over Canvey Island into Essex, flatter and less treed landscape is noticeable, the eye carrying over to a skyline dotted with red brick houses and bungalows of recent erection.
The river wall all along Canvey is a line of yellow in summer with the flowers right away from Kynoch's Hotel, an isolated building with a curious minaret-like tower. Of the interior of the island virtually nothing is visible. I have heard it said that the best viewpoint in the Lower River for seeing London's shipping is to be found here. Per­sonally, I give the palm to the terrace of the Tilbury Hotel.
The most important contribution to the insularity of Canvey is Holehaven Creek, once known as Holy Haven.
One of the photos we will be showing later shows this very tower from the roof top of the Kynoch Hotel, a view we have never seen before.
He also mentions the Chapman Lighthouse further on :-
Between the Nore Light-vessel and Gravesend the Chapman Light is a screw-pile erection off Canvey Island having two keepers constantly in residence.