New Holidays in Essex
by Percy Lindley 1892
Rail and Walking Routes, Boating, Fishing and Shooting Notes.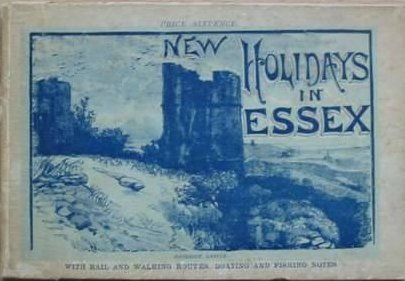 This book sold for 6d in 1891. The section on Canvey comes at the back of the book following on from the walk from Southend to Hadleigh.
It has a charming picture of the 1618 Dutch cottage and WW May's painting of the Lobster Smack Inn which was published in Rivers of Great Britain.
~~~~~~~~~~~~~~~~~~~~~~~~~~~~~~~~~~
By the direct road Rayleigh is less than three miles from Hadleigh.
Southend to Canvey Island and Rayleigh.—Taking the Hadleigh road and turning down to South Benfleet, at the end of Hadleigh Village, one comes at the south­east end of Benfleet to the ford and ferry over Benfleet Creek. Canvey Island, as dry land, was created by a Dutchman. Joas Croppenburgh, in 1622, was assigned one-third of its 6,000 acres on condition he saved the whole from the tide. He and his followers built them­selves tiny octagonal cottages, about 11 feet high and broad, with brick foundations and a superstructure of mud, kept in position by a pargeting of cockle shells. Previous to 1881 the island, now a parish, was a curacy divided among eight neighbouring parishes ; as one of the natives said to the vicar: " We never buried no one here till you came, except them as was drownded." In the old days services were not very regular at the church, and a flag was hoisted to announce divine worship. The flagstaff stands at the west end of the church. With the Dutch cottages and Dutch dykes, which divide the properties, Dutch customs survive. Teniers' favourite fiddler playing at an inn, and the people merrymaking, is often reproduced at the Sluice House on a holiday or harvest home. There is a good beach for bathing near Deadman's Point; fishing and boating can be freely had, wild-fowling is a winter attraction. After crossing the ferry and following the road south one mile, just beyond a small farmhouse, the best remaining specimen of the Dutch cottages will be found. Turning left, the church and school are reached, then a second Dutch cottage. The coastguard station, Sluice House, and sea wall are half-a-mile from here. There is a fine view from the lofty, sturdy sea wall. Up stream the Thames looks like a landlocked bay; below, it widens to the sea. As the clouds hurry by, driven by the fresh breezes that blow up or down the channel between the Essex and Kentish hills, lovely tints and shadows play on the hills, throwing up the ruins of Hadleigh at times as on a lantern screen. From Canvey the return may be by Rayleigh.