Photo-copy of the original tale of Canvey's 'haunted house'.
'AN EXACT NARRATIVE, Of many Surprizing Matters of Fact'.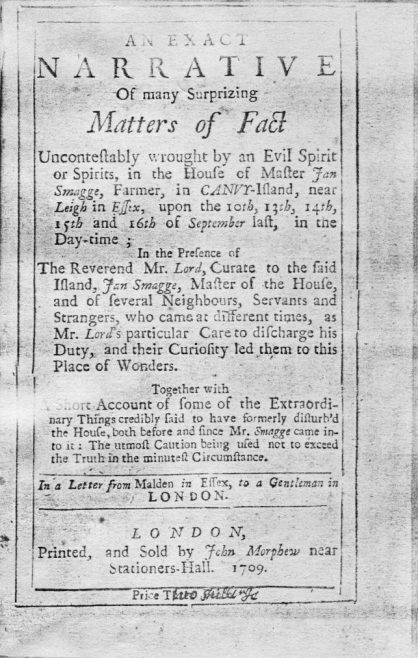 This a rather ancient photo-copy (photocopiers must have been in their infancy) of an even more ancient pamphlet, printed in 1709, written by the Reverend Mr Lord, Curate to Canvey Island, concerning the strange happenings at the home of Mr Jan Smagge on the said Island. If the the reader has the time and patience to read on they will find that this the foundation of the several 'ghost stories' based at Oysterfleet Farm. Other rumours also persist that this was nothing more than an elaborate scam to draw the Clergy's attention away from the Church building of the time which was being used for certain nefarious activities, i.e some local lads were using it as a transit store for smuggled contraband.
Dear Reader it is here for your delectation and interpretation but if you happen to bump into any unhappy Goblins, or Spirits or even the grand Chieftain, the Prince of the Power of the Air, on Canvey, during the next few weeks, please let us know!
~~~~~~~~~~~~~~~~~~~~~~~~~~~~~~~~~~~~
Thanks to Jan for giving her time and patience in scanning all these pages.