Salt Marsh & Mud and Mudlarking
Two books by Nick Ardley
Nick Ardley currently lives in Hadleigh but he lived for 25 years at a house on the island along Lakeside Path. He has been a member of the island yacht clubs for over 30 years. He says:-
'Before coming to Canvey Island I lived in Kent (with my parents – both Essex people) aboard the spritsail barge May Flower and we used to sail over to the Leigh shore for a couple of weeks most summers early to mid 1960s. That story has been told about too – with much local historical interest. The May Flower traded to the island picking up hay cargoes a few years after the serious floods of 29 November 1897: on 9 November 1900 she loaded hay, and it is known she came several times during that period.'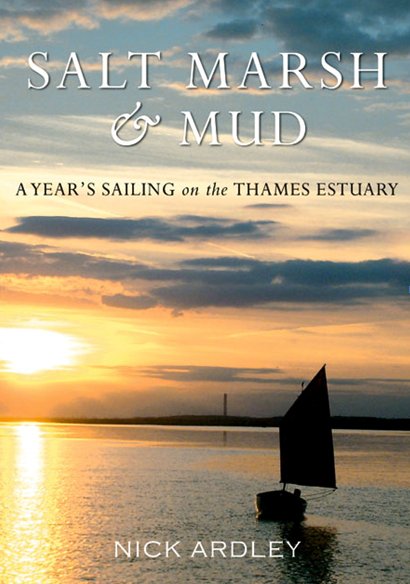 Salt Marsh and Mud – A Year's Sailing on the Thames Estuary is a compilation of interlinked stories about cruising around the lower Thames, Swale and River Medway. The area has been very much overlooked in the yachting literary world – even derided – yet it is a fantastic cruising destination, full of history, wildlife and seemingly remote anchorages, far from the madding crowd.
The stories are about a skipper and his mate, reminiscing and bringing to life the often barren and empty marshland landscape: the history, often unseen but laying close to the surface, is entwined with accounts of what can be seen while drifting by. Old ports, often many miles up muddy creeks, are visited. Dilapidated wharves are met, with ghosts of the past lingering on, some with new life oozing from them. The stories range from the end of a December to the next December, seeing out a complete year afloat.
Review by Janet Penn:- Nick's book is all about sailing in and around the Thames Estuary, with many stories written over a period of a year, giving an idea of differing seasons and sailing conditions. The stories are interwoven with history of the places and events associated with the Estuary.  The book contains many photos mostly from his own collection and littered with lovely drawings by his mother, Gwendoline Ardley. A delightful book for the enthusiast and I am sure others will enjoy it too.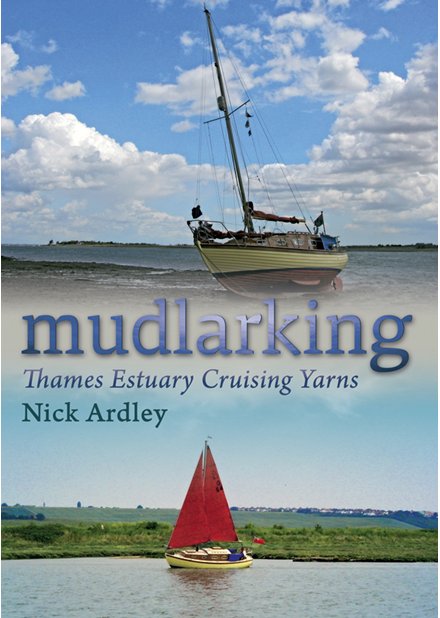 Mudlarking- Thames Estuary Cruising Yarns. In this charming sequel to the successful local best-seller Salt Marsh & Mud, the skipper and his mate meander gently around the coastline of East Anglia, exploring the marshland from North Kent to Suffolk in their tan-sailed, wooden clinker sloop, Whimbrel. Whether sitting with a cup of tea while gazing out over a peaceful waterway or sailing up between London's impressive buildings, they take the time to look around them and to appreciate the sights, sounds and stories that abound. Nick Ardley lovingly weaves his yarns of traditional sailing with his own reminiscences and detailed knowledge of the places and waterways that they encounter. The numerous rivers and creeks that indent the Thames archipelago hide a wealth of history and nature; this captivating book uncovers a few of these secrets and brings them to life.
Review by Graham Stevens:- Compelling reading, especialy for those Canveyites who in their earlier years were tempted over the seawall to embark on adventures around the Island's muddy, watery edges,whether it be in homemade rafts, rowing or sailing dinghy or more salubrious parental owned craft. Nick gently draws us away from home shores to not too distant destinations to the south, north and west as he and his 'mate' sail their tan-sailed, clinker-built sloop, Whimbrel, to adjacent estuaries and upriver. All the time we are kept informed, through the 'skipper's' musings and half-conversations with his 'mate', with a myriad of interesting snippets of information of local history, geography, folklore and natural history.

Nick writes with such empathy for his subject that you feel, at times, that you are his invisible passenger (except you don't get to share the bacon sarnies). His descriptive passages, particularly 'sunset over Woodbridge' supersede the best eforts of paint-brush and camera lens.

This captivating book will appeal not only to 'yachties' but to both sailors(non wind-driven) and land-lubbers with an iterest in the history and wildlife of our Thames-mouth coastline.
Fascinating– Read it from cover to cover!