Smuggling in Essex
A book by Graham Smith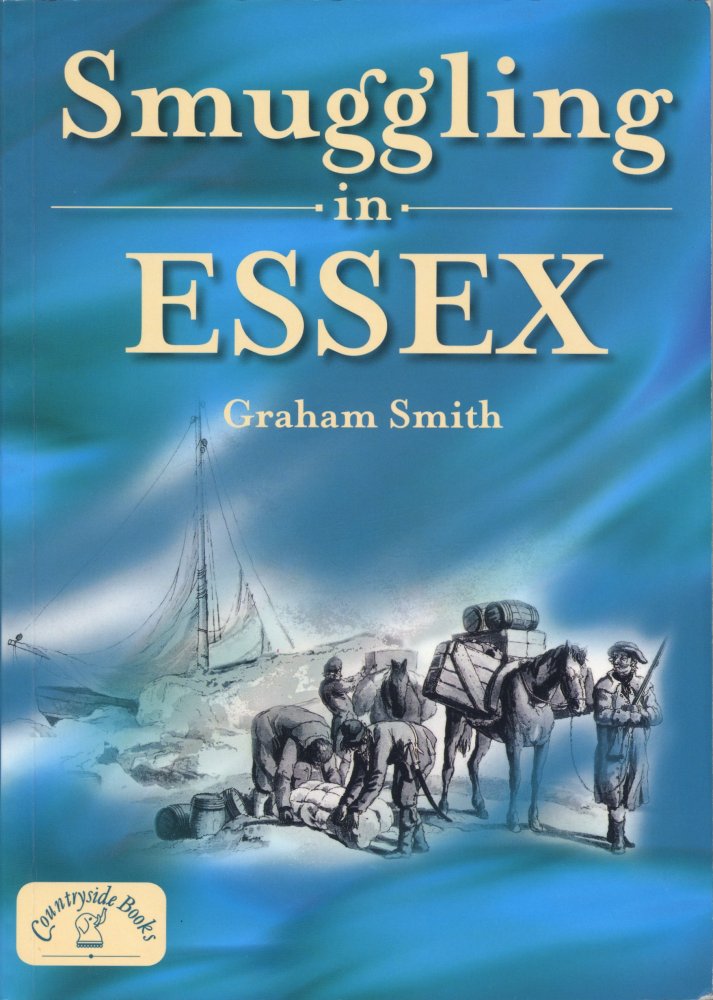 The cover of the book gives a very good overall description of the contents of Graham Smith's book:-
'Essex has always been particularly suited to smuggling. It has over ninety miles of coastline bordering the North Sea, and an even greater length of navigable rivers, tidal creeks, and backwaters. The county's maritime trade has resided predominantly in its three major ports -Colchester, Maldon and Harwich – with Manningtree, Mistley, Brightlingsea, Burnham and Leigh-on Sea operating as 'sub-ports' in a more minor role.
During the period from 1700 to the 1830s, known as the heyday of smuggling, there was a hugely profitable trade in smuggled luxuries including tea, tobacco, spirits, silks and lace as well as less orthodox cargo. Despite the romantic associations passed down by history, in reality smuggling was a vicious, violent and bloody undertaking. In more recent times, improved transport and communications, more sophisticated methods and illegal imports such as drugs; pornographic material; firearms; and live animals and birds have made modern smuggling both diverse and challenging.
Graham Smith's meticulously researched book describes the smuggling industry in detail along each section of the Essex coast, explaining the methods used. He introduces the legendary characters involved, including Mrs Gregson, the female 'Fagin' of Barking who employed a gang of local boys to obtain smuggled tobacco to supply to London merchants; William Blyth of  Pagglesham, dubbed 'The King of the Smugglers'; and Michael 'Micky' Steele who landed a small Cessna aircraft at St Osyth in 1989 carrying £1 million worth of cannabis.'
For everyone particularly interested in the smuggling on Canvey Island there are some very good descriptions of the Coastguard vessel in Hole Haven Creek and Sea Reach where the convict ships were anchored. He talks about Canvey's 'notoriety' but Leigh customs officers were mainly concerned about 'the quantities of rum goods in Hole Haven'. George pointed out that Charles Harper's book 'The Smugglers' which was published in 1909 said Canvey Island was reputedly a 'nest of smugglers'.
He talks about the history of Canvey Island from the time of the Dutch to more modern history. He also includes details of the Lobster Smack and the Coastguard cottages that were later built nearby and of course the involvement of the church building in the smuggling that has been talked about for years.
George also records in his book two incidents that happened more one hundred and forty years apart namely in 1840 he quoted from a brief report by the Inspecting Commander of the district:-
'I beg to report a smuggling run of tobacco, supposed to be a half a ton, which had been landed the previous month at Haven Hole. Despite being greatly out-numbered and offering stern resistance, the small force of Coastguard men were defeated by the armed smugglers because they had regrettably neglected to provide themselves with fire-arms. None of the tobacco was recovered and no smuggler was detained.'
Over one hundred and forty years later:-
In 1987 in Holehaven Creek there was a large seizure of tobacco some 576 Kilos. An anonymous telephone call had been received by London Custom House about a yacht moored at Holehaven Creek. The story is quite interesting and I seem to remember reading about it at the time.
Is there still smuggling going on out there? If so please let us know we wont tell anyone………………..
~~~~~~~~~~~~~~~~~~~~~~~~~~~~~~~~
(Ed) This page was sponsored by……….
For more about the site's sponsors please click here