The Canvey Cyclopaedia
written in the 1980's and never published in book form by D. M. Dowd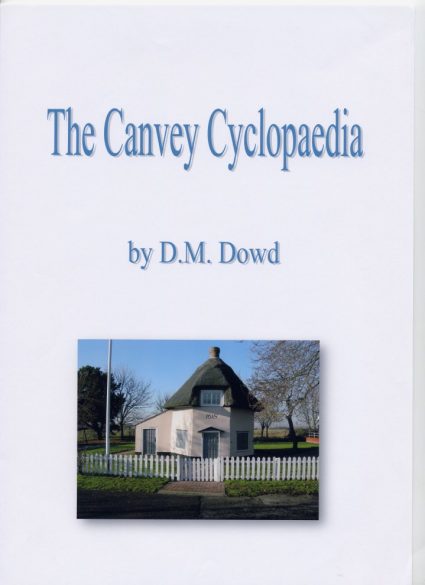 David Dowd presented me with his unpublished Canvey Cyclopaedia some years ago. It is a very comprehensive collection of facts, of great use to everyone interested in Canvey Island. The following is from the book's foreword:-
The author's reason for writing this book is that he lived with his family in pleasant surroundings on Canvey for about nine years during the 'Seventies – the most enjoyable period of his life. At this time large areas of the island were still happily somewhat 'underdeveloped' (no ticky-tacky executive boxes) and, with a bit of perseverance and prior knowledge, one could still make out many of the historical landmarks which pointed to a most interesting past. The history of Canvey is unique – one found it increasingly surprising as more was learnt – and made the author determined to share his passionate interest in this with others. Canvey has always been a 'backwater' – vested interests and a corrupt establishment contributed to this – and little regarded by the mainlanders, even those travelling to Southend and certainly by Londoners (e.g., a letter addressed to the Vicar of Canvey was sent by the G.P.O. to the Canary Islands in the 1890s)
Documented history is rare and often elliptic: other books have been written on the subject (see the Bibliography), and I am grateful to them, but they usually have a limited perspective – the present work was intended to include everything possible on the subject and to place Canvey in the context of what was going on in Britain at the time. Due to modern housing developments, which accelerated almost exponentially in the '80s, there is little of historic interest to be seen now, apparently, yet I shall attempt to show that Canvey has had as varied a past as most places in Britain, evidence of which is there if one knows where to look and what to look for.
You can access the book off site HERE
CanveyIsland.org take no responsibility for the content or availablility of external websites.