Canvey Island's Institutions
Originally published in the 1931 Canvey Island Guide
I have published this list from the 1931 Canvey Guide because it gives important names, dates and organisations which helps to give an idea of life on Canvey at that time.
Chamber of Trade:
Chairman. A. Fraser Smith; Hon. Sec., B.A. McCave. Founded 1924. Aims and objects:-The general advantage of the Island and the protection of the interests and well-being of the profess­ional, commercial and trading community. Subscription, 10s. 6d Per annum.
Canvey Island Landowners Association:-
Secretary, Stanley Crane, 28 Bedford Row, London, W.C.1. This Society represents the oldest definite associated effort on the Island, having been formed in 1903, by a few people who had then recently bought land, and were erecting the first bungalows on the Island. Its membership has grown considerably, but has hitherto been practically confined  to owners resident in London and the suburbs, and quarterly meetings have been held at Prince Henry's Hall, Fleet Street. The Society possesses a unique set of early plans, showing the Pl­ots of every estate on the Island, and much information other­wise inaccessible. Subscription, 5s. per annum.
Canvey Island Public Interests and Ratepayers Association:-
The aims and objects of the Association are to consider and report upon matters affecting public welfare and to give opportunity of expressing public opinion and, in this way, to assist public bodies, such as the County Council, Local Authorities, Wall Commissioners, etc., and take action so far as lies in its power. The secondary aim and object is to promote educational and other undertakings of public benefit. Members­hip approximately 250; Open to residents and all others, not under 21 years of age, who have interests in Canvey Island.  General meetings on second Tuesday in each month at 8 p.m. Annual subscription, 2s.6d. for husband and wife, Is 6d. each for others. It is the duty of every resident ratepayer on Can­vey Island to join, and so further the interests of the Assoc­iation. Further Particulars can be obtained from the Hon. Sec, R.G. Leach, "Redbrook", Norbotten Avenue, Leigh Beck, Canvey
Island.
Canvey Island Child Welfare Clinic:-
Hon. Secretary, Miss Stevens. Founded 18th November, 1925. Clinic held third Thursday in each month at 2.30 pm in Whittier Hall. Dr. Lorraine, Assistant County Medical Officer, attends each monthly clinic, and the Health Visitor for the District attends to weigh babies and children up to school age.
Canvey Island Women's Institute:-
President, Mrs. Richardson. Secretary, Mrs. Manthorpe, "W­illalla", Furtherwick Park, Canvey Island. Aims and objects:-Educational, arts and crafts, friendly intercourse. Meetings monthly at "Kingsley Hall". Subscription, 2s per annum.
Canvey-Island Branch of South-East Essex Conservative and Unionist Association:-
President, Mrs. W. Cox. Chairman F. Langley. Treasurer, Mrs. Langley, Secretarym Miss. I. Evans, "Kingsley", Canvey Island. Meetings monthly. Minimum subscription, 1s.
Canvey Island Branch of South-East Essex Liberal Party:-
Chairman, G.H. Chambers, "Maison Wyck", Furtherwick Road.
Canvey Island Branch of South-East Essex Labour Party:-
Chairman, Mr. Hattersley. Vice-Chairman, Messrs.W.Hall and A. Ingold. Treasurer, Miss C. James. Secretary, Miss Mellor. Monthly Meetings. Minimum Yearly Subscription, 2/-.
Whittier Hall and Institute:-
Erected in 1926 for the furtherance of religious and soci­al work. The undermentioned organizations are now making  use of the Hall:‑
Canvey Island Friends Committee.- Clerk, G. Montford. Public Meetings for Worship, Sundays, 11.15 a.m. Fellowship Singing, Sundays, 8-9 pm. St. Anne's Women's Guild.-Mondays, 3 p.m. Total Abstinence Society.- First Monday each month, 8 p.m. National Deposit Friendly Society, First Tuesday each month. Secretary Mr. J.S. Allen. The Institute Committee organize Lectures, Co­ncerts, Classes, Games, etc., and a Reading Room is available. Hon. Secretary, J.S. Allen; Hon. Treasurer, Mrs. Turner. The Hon Superintendent of the Hall is Miss Stevens, "The "Settlement" who will be pleased to answer any enquiries.
Canvey Island District Nursing and Emergency Committee:-
Started December, 1924 (affiliated Essex County Nursing, Association). Hon. Treasurer, Mrs. E. Langley, "Woodville, "Wi­nter Gardens. Any information from Hon. Secretary, Miss D.F. Stevens, The Settlement, High Street, Canvey Island. Nurse, M. Morgan, 1 May Avenue, near Post Office, High Street, Canvey Island. Midwifery, Maternity and general Nursing. Membership fee 5/- yearly, or 6d. monthly. Rules and  membership card to be obtained from Hon. Sec. or member of Committee.
Canvey Island Ambulance and Emergency Committee:-
Chairman, Dr. R.E. Ellis, Furtherwick Park. Hon. Sec., J. Harrison, 1 The Poplars, Foster Park. Has an up-to-date motor ambulance, ready for service day and night, to transport sick or injured, to Hospital, or to London, if necessary. Also, cer­tain sick room appliances may be loaned (under doctor's orders) the articles being obtained from the Hon. Sec.
Boy Scouts:‑
There is a Group of B.P. Boy Scouts on the Island. There are Sea Scouts, and a Wolf Cub Pack is run to prepare the you­nger boys for the Scout Section of the Group. A Rover Section has been started under the G.S.M. as Rover Leader. He is Mr. Geoffrey Prout, the author of Boys' Stories.
St. Anne's Canvey Social and Athletic Association:-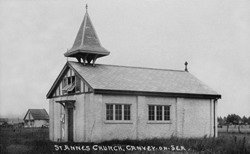 This Association was started with the object of providing suitable facilities for a local cricket club, and has been extended to do the same for football, tennis and other outdoor recreations. The various games sections are conducted in a democratic way, and the Association has four acres of ground situate in the most central portion of the Island, permanently available for sports and athletics. Through the generosity of A.M. Clark Esq., a large owner of land on the Island, a fine hall has been erected, complete with stage, etc., and which is used for Social events, and it is hoped to greatly extend the activities of the Association on its social side. It is run on club lines for the benefit of the members of the Associati­on, and is the only unlicensed club on the Island. The yearly subscription for membership of the Association is 5/-.
Small Gains Club:-
Social Club.  well equipped bar, specialising in catering (chef). Two billiard tables. Own orchestra for dances. Aftern­oon teas.Yearly subscription, 5/-. Sec; H.Price Powell.
Canvey Island Rotary Club:-
Meetings held at "Cricksea", High Street, every Monday, at 8pm.