An Interesting Legend
Captivating Canvey 1948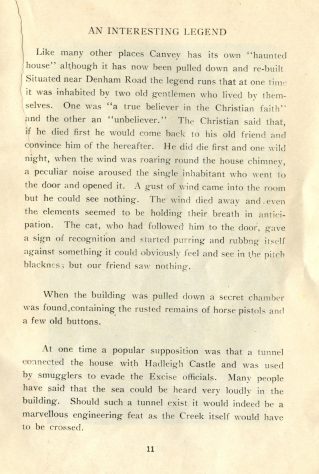 Like many other places Canvey has its own "haunted house" although it has now been pulled down and re-built. Situated near Denham Road the legend runs that at one time it was inhabited by two old gentlemen who lived by them­selves. One was "a true believer in the Christian faith'" and the other an "unbeliever." The Christian said that, if he died first he would come back to his old friend and convince him of the hereafter. He did die first and one wild night, when the wind was roaring round the house chimney, a peculiar noise aroused the single inhabitant who went to the door and opened it. A gust of wind came into the room but he could see nothing. The wind died away and even the elements seemed to be holding their breath in antici­pation. The cat, who had followed him to the door, gave a sign of recognition and started purring and rubbing itself against something it could obviously feel and see in the pitch blackness but our friend saw nothing.
When the building was pulled down a secret chamber was found containing the rusted remains of horse pistols and a few old buttons.
At one time a popular supposition was that a tunnel connected the house with Hadleigh Castle and was used by smugglers to evade the Excise officials. Many people have said that the sea could be heard very loudly in the building. Should such a tunnel exist it would indeed be a marvellous engineering feat as the Creek itself would have to be crossed.