Modern Times
Captivating Canvey 1948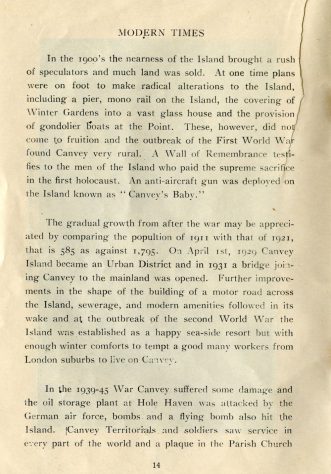 In the 1900's the nearness of the Island brought a rush of speculators and much land was sold. At one time plans were on foot to make radical alterations to the Island, including a pier, mono rail on the Island, the covering of Winter Gardens into a vast glass house and the provision of gondolier boats at the Point. These, however, did not come to fruition and the outbreak of the First World War found Canvey very rural. A Wall of Remembrance testifies to the men of the Island who paid the supreme sacrifice in the first holocaust. An anti-aircraft gun was deployed on the Island known as "Canvey's Baby."
The gradual growth from after the war may be appreci­ated by comparing the population of 1911 with that of 1921, that is 585 as against 1,795. On April 1st, 1929 Canvey Island became an Urban District and in 1931 a bridge joining Canvey to the mainland was opened. Further improve­ments in the shape of the building of a motor road across the Island, sewerage, and modern amenities followed in its wake and at, the outbreak of the second World War the Island was established as a happy sea-side resort but with enough winter comforts to tempt a good many workers from London suburbs to live on Canvey.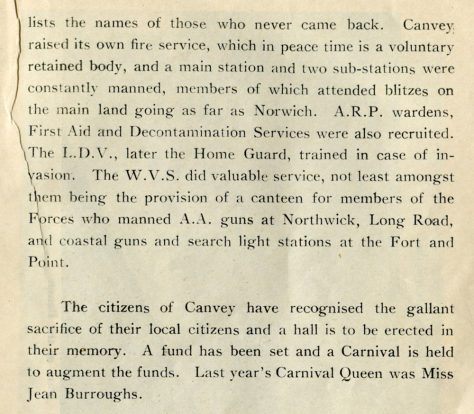 In the 1939-45 War Canvey suffered some damage and the oil storage plant at Hole Haven was attacked by the German air force, bombs and a flying bomb also hit the Island. Canvey Territorials and soldiers saw service in every part of the world and a plaque in the Parish Church lists the names of those who never came back. Canvey raised its own fire service, which in peace time is a voluntary retained body, and a main station and two sub-stations were constantly manned, members of which attended blitzes on the main land going as far as Norwich. A.R.P. wardens, first Aid and Decontamination Services were also recruited. The I.D.Y., later the Home Guard, trained in case of in­vasion. The W.V.S. did valuable Service, not least amongst them being the provision of a canteen for members of the Forces who manned A.A. guns at Northwick, Long Road, and coastal guns and search light stations at the Fort and Point.
The citizens of Canvey have recognised the gallant sacrifice of their local citizens and a hall is to be erected in their memory. A fund has been set and a Carnival is held to augment the funds. Last year's Carnival Queen was Miss Jean Burroughs.