Canvey Island's Diamond Jubilee
Sixty Years of Development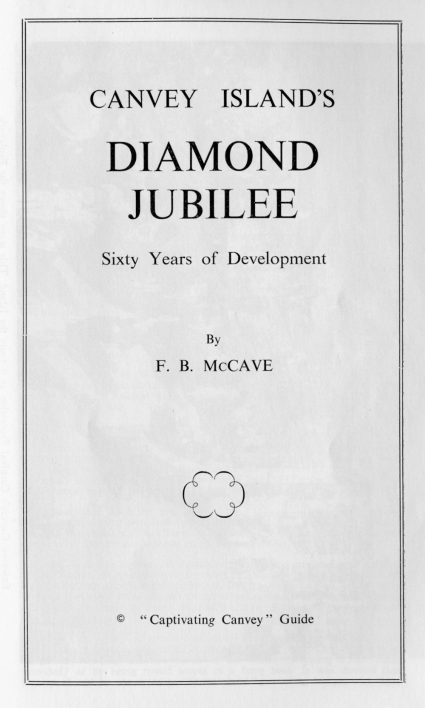 Article from Captivating Canvey 1969.
Canvey  Island's development as a residential and sea-side area can be traced from the dawn of the present century.
Founder of the Island's change was Mr. Hester, who had ambitious plans for Canvey. They included gardens under glass (to this day a part of the district where they were is still known as Winter Gardens), a mono railway, and a pier. A start was made on these and other projects but he was not able to carry them through.
However, as a result of his land sales, people were encouraged to come and build on Canvey. Many of the properties became delightful summer and holiday residences.
The outbreak of World War I stopped progress but some idea of what had been achieved can be seen from population figures. In the 19th century Canvey's resident population was in the region of 300. By 1911 it had jumped to 583.
By 1921 those living on Canvey had risen to 1,795.
Then came the boom years. Good, cheap homes were in demand, and Canvey developers satisfied the need. Moderately priced bungalows, with strip roads, were built on the estate pattern and they brought more services. Electricity came (it was switched on March 2nd, 1931), and gas. Southend Waterworks' borehole at Leigh Beck started pumping into supply in 1922.
Educational facilities grew and the Village School and private establishments were not sufficient. In August, 1924, a County Council school was opened and has been followed by a Secondary Modern School (post-war), two primary schools, and a Convent school.
The Island's religious life expanded. In addition to the Parish Church at the Village, St. Anne's was provided at Leigh Beck and a church hall was opened there in November 1931. A new parish church of St. Nicholas is being built in Long Road. Other religious bodies have their meeting places and churches and a new Methodist Church is being built. A memorial hall was opened in 1953.
The local authority, always keen that Canvey should be fully developed, had always wanted to improve its access. At that time Canvey could be reached by fording Benfleet Creek at low water (stepping stones being provided) or by being rowed across in a ferry boat. It was decided that Canvey should be connected to the mainland by a swing bridge, with fixed approaches. In 1930 Brigadier-General R. B. Colvin, C.B., then Lord Lieutenant of Essex, drove in the first pile on May 21st. The bridge was opened for traffic on May 21st, 1931. Canvey, which had had a new road provided and an excellent bus service, was now ready for progress.
All this had been done by a new Urban Council. Canvey, formed into a civil and ecclesiastical parish on March 4, 1881, was under the administration of Rochford Rural District Council. It was represented by one, and after April 1925, two persons. A strong case was presented to the Local Government Committee of the Essex County Council and Canvey became an Urban District on April 1st, 1926, first of nine members and eventually of 15. Now the Island is divided into five wards.
Spurred by what had so far been done, the Council continued to develop the district. Roads and sewers were laid. The sea front was improved and Canvey " Casino " was opened by private enterprise in 1933.
In the summer of 1938 Canvey was in a very flourishing position with 4,010 buildings and a rateable value of £40,315.
But the following year war broke out. Canvey played its part in the struggle, with residents serving in the Armed Forces, anti-aircraft guns based locally, its beaches wired against invasion, and its complement of firemen, Home Guard and Civil Defence personnel. Many people, bombed out from towns, found permanent residence in their former holiday homes at Canvev. In 1947 the Registrar General's estimation of the population was 10,030.
With the end of the war Canvey Island developed as a holiday centre for the war-weary citizens of London and other cities. It was a continuation of the progress between the wars when its nearness to London, bracing air, fine natural beaches, amusement centres and shops, had brought tens of thousands to the Island over the years.
The post-war development saw the establishment of holiday camps. First for the traditional campers and then for caravans, and later, holiday chalets. Canvey has continued to cater for holiday-makers on an ever-increasing scale. But those who wish a more traditional holiday in boarding houses, hotels and bungalows are provided for.
Industry too has increased. Industrial expansion took place in 1936. After the war it continued and on April 19, 1948, Mr. Rex Parton, who was then assistant director, Board of Trade, Mr. G. Hudson, chairman of the Local Industrial Group, Board of Trade, leading officials, and prominent Islanders inspected local factories. Industrial development is now being centred on two excellent sites, admirably positioned, and Canvey Urban Council gives every assistance to industrialists.
By 1952 Canvcy Island was more than holding its own and had come to be recognised as a lively residential, holiday and industrial area. But on the night of January 31-February 1, 1953, Canvey Island, in common with much of the East Coast, was flooded. The sea wall was breached in some places, homes were flooded and 58 people died.
Those who feared that such an occurrence might prevent Canvey from going ahead were quickly proved wrong. Under strong leadership by the local authority and the work of its residents the district was quickly on its feet and a few short months later thousands of people were on holiday at Canvey.
The sea-walls were rapidly rebuilt, being greatly strengthened and improved in the process, and their height was increased, making them impregnable tide barriers. Canvey Island Urban Council, ever alive to Canvey's future, agreed to implement various Government Acts which enabled them to assume the role of a building society, advancing as much as 90 per cent to prospective house purchasers. As a result, in a few years Canvey's resident population has now arrived at the figure of 15,000, and it is still increasing. Most of the houses have been provided by local builders, who have built beautiful, modern homes in a variety of pleasing designs.
But assistance to private buyers was not the Council's only achievement. Early in 1954 they considered accommodating the over-spill population of parts of London. As a result a housing development scheme, under the Town Development Act, 1952, was agreed between Canvey Council and the Boroughs of Dagenham and Walthamstow. Dagenham acting as agents for Canvey Council.
A site of nearly 59 acres north of Long Road was bought and develop­ment of 425 houses (in two phases) with roads and other features, was started. On Saturday, July 26th, 1958, Lt.-General Sir Humphrey Gale, K.B.E., C.B., C.V.O., M.C., chairman of Basildon Development Corpora­tion, opened the first house. Since then the first part of the scheme has been finished and the second part started.
The local authority continued their own Council house building which had started in 1947.
As Canvey grew and grew so did the activities of the local authority. Street lighting was completely altered and greatly improved with a new system that extends the whole length of the Island and along the sea-front esplanades, car parks were provided, more sea-front development undertaken, a five-year plan is in operation to improve all strip, cinder and unmade roads at a cost of just over one million pounds, Newlands and Holbeck Road areas are being sewered. The High Street has attracted fresh shops and multiple stores, a Crown Post Office and a new fire station are both being built, a site has been chosen for a new County Library, and there is every hope of a start being made on a road which will bypass the level crossing and improve access. (This is being done in Benfleet by the Essex County Council.)
Local organisations, which cater for every cultural, religious, or recreational activity, are flourishing, and an annual Carnival is enjoyed by residents and visitors alike.
Truly Canvey can be proud of sixty glorious years.