Useful Hints to Visitors
The Official Canvey Guide 1932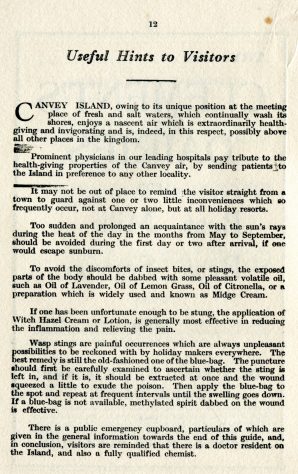 Canvey Island, owing to its unique position at the meeting place of fresh and salt waters, which continually wash its shores, enjoys a nascent air which is extraordinarily health-giving and invigorating and is, indeed, in this respect, possibly above all other places in the kingdom.
Prominent physicians in our leading hospitals pay tribute to the health-giving properties of the Canvey air, by sending patients to the Island in preference to any other locality.
It may not be out of place to remind the visitor straight from a town to guard against one or two little inconveniences which so frequently occur, not at Canvey alone, but at all holiday resorts.
Too sudden and prolonged an acquaintance with the sun's rays during the heat of the day in the months from May to September, should be avoided during the first day or two after arrival, if one would escape sunburn.
To avoid the discomforts of insect bites, or stings, the exposed parts of the body should be dabbed with some pleasant volatile oil, such as Oil of Lavender, Oil of Lemon Grass, Oil of Citronella, or a preparation which is widely used and known as Midge Cream.
If one has been unfortunate enough to be stung, the application of Witch Hazel Cream or Lotion, is generally most effective in reducing the inflammation and relieving the pain.
Wasp stings are painful occurrences which are always unpleasant possibilities to be reckoned with by holiday makers everywhere. The best remedy is still the old-fashioned one of the blue-bag. The puncture should first be carefully examined to ascertain whether the sting is left in, and if it is, it should be extracted at once and the wound squeezed a little to exude the poison. Then apply the blue-bag to the spot and repeat at frequent intervals until the swelling goes down. If a blue-bag is not available, methylated spirit dabbed on the wound is effective.
There is a public emergency cupboard, particulars of which are given in the general information towards the end of this guide, and, in conclusion, visitors are reminded that there is a doctor resident on the Island, and also a fully qualified chemist.