Opening of Treatment Centre
Furtherwick Road 1938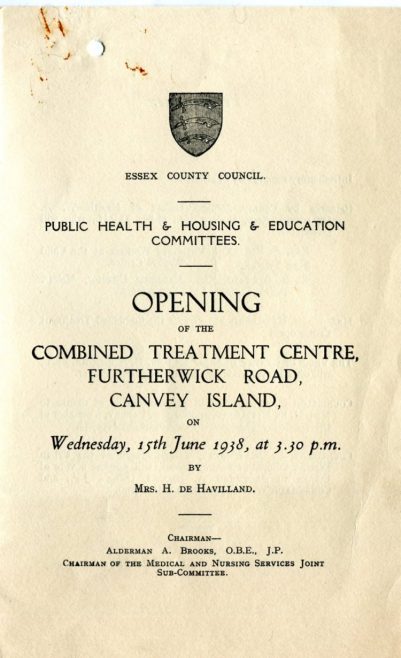 The Combined Treatment Centre in Furtherwick Road was opened on Wednesday the 15th June 1938 at 3.30pm by Mrs H De Havilland.
The Vicar of Canvey Rev H A S Pink offered prayer. Councillor Mundy thanked Mrs De Havilland and Councillor Picket thanked Alderman Brooks seconded by Councillor Johnstone.
County Architect's Description of Premises.
The Combined Treatment Centre is situated in Furtherwick Road.
The building is constructed of sand faced red bricks, the outer walls being cavity type.
The pitched roof over the Waiting Hall is covered with sand faced tiles, the remainder of the roofs are flats of fire-resisting construction.
The accommodation provided in the Treatment Centre has been arranged in the following manner:—
A Waiting Hall, 35ft. by 23ft., occupies the centre of the building, and leading off from this on the North side is the Medical Officer's Consulting Room, also a Weighing Room, which will be used for Child Welfare and School Clinic purposes ; a room for the Dental Surgeon is placed next to the Weighing Room, with a Dental Recovery Room adjoining.
On the opposite side of the Waiting Hall is the Toddlers' Room, which will be used in conjunction with the Child Welfare Sessions. This is divided from the Hall by means of a glazed folding partition which, when folded, enables them to be used together as one large Hall when desired.
A small Kitchen and Bath Room are also provided off the Hall.
Accommodation for the Caretaker is provided on the first floor.
The heating of the building is by a low pressure hot water system and the lighting is by electricity.
At the rear of the building and connected to same by a short covered way, a shelter is provided for perambulators.
I do not think we have any pictures of these premises.