1 - The Dutch Cottage Appeal
Save Old Canvey Fund, 1974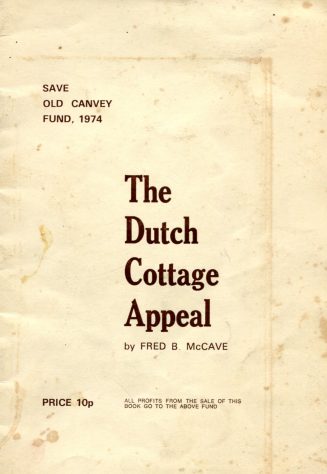 We have been given a copy of this appeal booklet written and published by Fred McCave and dated 1974. We are very grateful to the widow of the late Lionel Hart for donating it to the Archive. Lionel Hart was a former Canvey Councillor and one of the founders of the Canvey Town Council. More pages will be published shortly.
What it's all about
We islanders have a proud heritage. Our history stretches back to the dawn of time, but there are precious few reminders left.
Some Roman pieces in museums, the two Dutch cottages, St. Katherine's Church and the Lobster Smack are all that remain. Now one of them is threatened.
I refer to the Dutch Cottage in Haven Road. Most generously gifted to the then Canvey Island Urban District Council by the long-resident Cockle family, it has since become the target of vandals.
We are now administered by Castle Point District Council, who feel that if we care deeply enough we will contribute the £1,600 necessary for restoration.
I believe that we DO care deeply enough so to do, and to prove it my own newspaper, the "Clarion", has launched a fund specifically for that very purpose.
Since it was first announced I have been heartened by the many messages of support I have received.
All the profits from the sale of this booklet will go to the fund and I hope all who have not yet donated will feel inspired to send a contribution to
Save Old Canvey Fund "Castle Point Clarion" 118a Furtherwick Road, Canvey
All moneys received will be acknowledged in the "Clarion".
Before closing I would like to thank Coun. Bert Tibbles and Coun. Dot Shaw, who DID care enough to speak out at the Council committee meeting; Coun. Ray Howard, who has promised his support; and Graham Ash, chairman of Castle Point Oil Refineries Resistance Group, his officers and members, who have given their blessing to this campaign and who will sell copies of this publication at their bazaar; and to Mrs. Margaret Payne, a founder-donor, who has also said she will do her best to assist.
When the building to which I have referred is restored to its former pristine condition I know that will be sufficient reward to all who have taken part in a community exercise — the preservation of a part of Old Canvey.
Fred B. McCave