1 - The Eagle Steamers
and General Steam Navigation Co Ltd.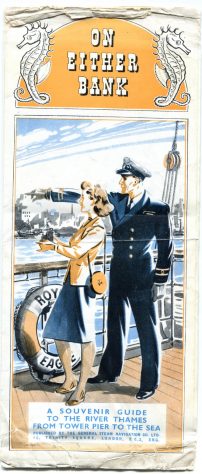 One of our members has passed us a leaflet he found in a bunch of books he purchased.
The leaflet is probably 70-80 years old and is a Souvenir Guide to the River Thames from Tower Pier to the Sea promoting the 'Eagle Steamers'.
It is of great interest not least because it mentions Canvey Island and the Eagle Steamers were a frequent visitor passing Canvey and appears in many paintings and photos of the period.
We have copied it for you so all can enjoy some of Canvey's past history.
The leaflet was printed by The General Steam Navigation Co Ltd who ran the Eagle Steamers. Judging by the clothes the women were in particular are wearing I would this was possibly late 1930s. Might be post war, unfortunately there is no date anywhere on the leaflet.
The leaflet features the 'Royal Eagle' which was built in 1932. Although initially billed as "London's New  Pleasure Steamer" it was  not long before she acquired the tag: "London's  Luxury Liner". She became an "Auxiliary Anti-Aircraft (Coastal) Vessel" during WW2. Royal Eagle's first trial run after the war from London to Southend was on June 8th 1946. Her last trip on the Thames was in 1950.
On the back is a full description of the route as if you were aboard one of the steamers. Plus some photos of shipping one would expect to see on the Thames at that time. You can read this by clicking on the pictures below.