Kelly's Directory of Essex 1933
Canvey Island, Residents and Commercial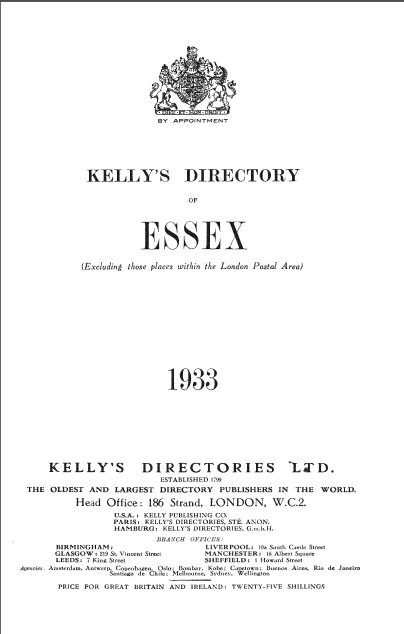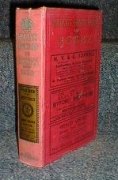 CANVEY ISLAND , which is united to South Benfleet by a bridge opened in 1931 at a cost of £20,000 across Hadleigh Ray, and originally part of the parishes of Bowers Gifford, Hadleigh, North Benfleet, Laindon, Pitsea, Prittlewell, South Benfleet, Southchurch and Vange, was formed into a civil and ecclesiastical parish 4 March, 1881, but under the provisions of the Canvey Island (Constitution of Urban District) Order, 1926, the parish was converted into an Urban District, with a council consisting of nine members: it is supposed by some to be the "Counos" of "Convennos Insula" of the ancient geographer Ptolemy, a name assigned by others to the Isle of Sheppy, and is a marshy island of the Thames, defended by high banks all round, erected in 1623: it is in the South Eastern division of the county, Rochford petty sessional division, Southend County Court district, Canewdon and Southend rural deanery, Southend archdeaconry and Chelmsford diocese: it forms very rich grazing ground and includes a large quantity of arable land. Water is supplied by the Southend Waterworks Company, who obtain their water from the Rivers Chelmer, Ter and Blackwater, also from wells and borings. Canvey church is 10 miles west from Southend-on-Sea and 2 miles south from South Benfleet station on the London, Midland and Scottish railway. The church of St. Katharine, erected in 1875 in the place of an earlier building dating from 1712, the only portions of which now remaining are some windows and the porch, is a structure of wood, consisting of chancel, nave, transepts and a small central belfry, with spire, containing one bell: there are 160 sittings. The register dates from the year 1819, previous to which date the entries were made in the South Benfleet register. The living is a vicarage, net yearly value £340, with glebe (£13) and residence, in the gift of the Bishop of Chelmsford, and held since 1929 by the Rev. Edward Bonamy Dobree M.A., L.Th. of Hatfield Hall, Durham. Here is a small hall belonging to St. Anne's church and a Baptist chapel. The Chapman lighthouse was opened in 1851; it stands half a mile from the island due south-east.
The Casino, opened in 1933, consists of a dance hall, side shows, amusement park, etc. The principal landowners are the Ecclesiastical Commissioners, A. M. Clarke esq. and George Chambers esq. The island is 6 miles long by 3 broad, and contains 4,370 acres of land, 30 of inland and 2,640 of tidal water and 2,031 of foreshore; the population in 1931 was 3,532.
Post, M. O., T & T. E. D. Office, High street. Letters should have Essex added.
Post & Tel. Call Office, Canvey-on-Sea,. Letters should have Essex added. Canvey Island nearest M. O. office
Post, T. & T. E. D. Office, Canvey village. Letters should have Essex added. Canvey Island is the nearest M. O. office
Police Station, Long road
URBAN DISTRICT COUNCIL.
Offices, Long road.
Members.
Chairman, Frederick John Leach J.P.
Henry Philip Ansell
George Henry John Chambers
Henry John Dellaway
Horace Percy Fielder
Clara Grace James J.P.
John Edwin Longman
George Ambrose Pickett
William Dring Read
Officers.
Clerk & Accountant, Harold Hugh Lionel Harrison
Surveyor, Philip Guy Wilmot Stokes A.M.Inst.C.E
Assistant Surveyor, Walter Scott Laing
Rating & Valuation Officer, Reginald Whitley
Sanitary Inspector, David Edward Williams A.R.San.I
PRIVATE RESIDENTS.
Attwell Frederick George, Dungannon Long road
Carrick Leonard G.,  Ard-ri, Long Road
Chambers George H., J.P. Maison Wick, Furtherwick road
Clarke Frederick William., Arundel,Long Road
Dobree Rev. Edward Bonamy M.A. L.Th. (vicar). Vicarage, Canvey village
Ellis Robert Sidney M.B. Furtherwick park
Evans Miss Irene, Kingsley, Central Wall road
Gilkes Julian Henry K. Runnymede, Long road
Gregson Capt. William H. The Lake
Hall William,Villa Violette, Long Road
Lawrence Eugene, Welbeck, Long Road
Read William D. School
Sherwin John Edward, OLomondside, Long road
Siemssen Herbert, Ubendycke, Winter gardens
COMMERCIAL
Admiral Jellicoe Hotel (Hy. Challis), High Street
Alcock Mabel (Mrs.), Boarding Houseuse, Queensmere, High Street. Leigh Beck
Aldridge William, Alfred. Builder. Prospect, High Street.
Allbut Ellen (Mrs.), Draper, High Street. Leigh Beck
Allen J. S. & G. A. Builders. High Street
Allen Rose Eliz. (Mrs.), Confectioner. High Street
Allingham Clement, Confectioner. High Street. Leigh Beck.
Attwell Frederick. George. Butcher. High Street. Leigh Beck & Lakeside
Barclays Bank Ltd. (sub-branch) (mon. & fri. 10.30 a.m. to 2.30 p.m.), High Street.; head office, 54 Lombard Street. London EO3
Barrell Allan, Shopkeeper
Bateman Harry, Blacksmith, The Village
Bateman Leslie Jas. Newsagent. High Street.
Bayne William. Thomas. Refreshment. Rooms. High Street
Beaver Bros, Fishmongers. The Village
Beckwith Chas. Butcher, The Village
Beecroft Wltr. G. Solicitor. & Commissioner for oaths, High Street
Bell Charles. Boarding House. Shell beach
Benwell George. Hy. Greengrocers. High Street
Bicknell Percy, Fishmonger. High Street.
Bishop Mark, Confectioner. High Street
Bohemia Park Hall, High Street
Bone Jn. H. Grocer, & Post Office, The Village
Brassington Jn. Fancy goods dir. High Street
Brook E. & Son, Bakers, The Village
Brown Stores (Mrs Mabel B. Taylor, proprietress) Grocers ; holiday bungalow to let, Leigh Beck.
Brown Charles. Farmer, Scar house, Haven Road
Bubbers Florence A. (Miss), Nursing home, St. Francis, Oyster Fleet
Camplin Evelyn (Miss), Refreshment rooms. Long Road
Canvey Club (Jn, Stott, proprietor.), High Street.
Canvey Hall (Morris Hartfield, proprietor.), High Street.
Canvey Island Market & Trading Co. Ltd. High Street.
Canvey News (published sat,), High Street.
Canvey Supply Co. Ltd. Builders.' Merchants. High Street.
Carey William. U. Red Cow P.H. The Village
Casino (A. H. Beaumont & E. H. Mable, proprietors.). Shell Beach.
Cass Jn. William, dairyman, Long Road
Chambers Horace E. dairyman, Furtherwick farm & High Street. Leigh Beck
Chappie Jn. W. Greengrocers. Lakeside
Clarke Arthur Mathew, Farmer, Lubbins farm
Clarke Frank Leonard, Greengrocers. High Street
Claydon Jn. Farmer, Leigh Beck
Clements Ernest, Dairyman, Leigh Beck & High Street.
Clifton Social Club (J. Knox, sec), Runnymeade Road
Collins Edith (Miss), draper, High Street
Convent of the Good Shepherd (Rev. Mother, superior; Rev. A. W. Colton, chaplain).
Cook Fred, dairyman, Lakeside
Cox's Hotel (Mrs. K. E. Cos, proprietress), & Post Office, Dovercliff Road.
Croisette Alfred Mark, Wireless Dealer. High Street
Davies Hy. William. Butcher, The Parade, High Street.
Dellaway Hy. Jn. The Hay Stack P.H. Furtherwick Corner.
Denny George Alfred. Shopkeeper. High Street
Dockerill Ernest Alfred, Builder. Dawn, Winter Gardens
Durbin A. & Son, Butchers, Lakeside Corner
Eames Harold, Shoe maker, High Street
Easton Hy. William. Greengrocers. The Parade, High Street
Economic Stores, Hardware Dealers. High Street
Edward Hy. Hairdresser. Lakeside
Ellis Rt. Sidney M.B., Ch.B.Edin. Physcn. & Surgn. Furtherwick Park.
Evans Alleyne Gordon Thomas, Wireless dealer; Philco & Murphy agent, High street
Express Laundry (Southend) Ltd. (Wltr. Rt. Byron, mngr.), The Arcade, London Road
Farley Alfred. House Decorator. 1 May Avenue
Fielder S. & Son, builders, High street.
Fisk Frederick. Builder. Furtherwick corner.
Fitt William Arthur. Bookseller. Small Gains
Fletcher & Ingram, Drapers. Lakeside
Foley George. Percy, Plumber, Kai Terri, Furtherwick Road.
Fortini Ezio, Shopkeeper. Shell beach
Franke R. & Son, Builders. Oyster Fleet Road.
Gaylard Hy. Motor Engineer. High Street.
George Hy. Thomas. Electrical engineer. High Street
Gibson Edwin William. Tea gardens, Shell beach
Girls' Rest House (Miss James, matron), Lakeside
Golbourn Chas. Hy. Greengrocers. High Street. Leigh Beck
Gregory E. Lennox, Builder. The Village.
Hall Frank, Refreshment. Rooms. The Parade, High Street
Hart Hy. George. Butcher, High Street.
Hawes H. & D. Drug stores, High Street. Leigh Beck
Higgins & Mason, Ironmngrs. Leigh Beck
Hill Arth. & Co. Builders.' Merchants. The Village
Hinton Ethel (Mrs.), Greengrocers. High Street. Leigh Beck
Holmes Bros, Hardware Dealers. High. Street.
Hotel Canvey (Nathan Dubosky, proprietor.), Shell beach, Leigh Beek.
Howarth & Wright, Builders. Grasmere Road
Humberstone Rose Annie (Miss), Boarding House. Beach ho.
Ingold Alfred. Jn. Builder. Dysholme, High Street. Leigh Beck
Ives Rupert Stanley, Boot & Shoe Dealer. High Street
Jackson Harry, Plumber, Yahna, Leigh Beck
Janes William. Hy. Refreshment. Rooms. Travellers' hall,High Street.Leigh Beck
Jenning A. F. & Son, Ironmongers. High Street, Leigh Beck.
Jennings Percy George. Builders.' Merc. Furtherwick Park.
Johnson Maud (Miss), Boarding House. Warlincourt, Leigh Beck
Johnstone William. Builder, Rudyard, Beach, Road
Jones Alfred. Louis & Son, Shopkeepers. Long Road
Kemp Mary (Mrs.), Greengrocers. The Market, High Street, Leigh Beck
King George. Newsagent. Lakeside
King's Tennis Club (Galbraith King, proprietor.), Leigh Beck.
Kingsley Hall School (private) (The Misses Evans), Beach Road
Kirby Rd. Leo, Draper, High Street
Kynochs Hotel (Mrs. Esml Fraser, proprietress). Hole Haven.
Lancaster Charles. Grocer, High Street.
Laxen I. (Mrs.), Dressmaker. Norbotten Avenue. Leigh Beck
Leach Arthur. Farmer
Leach Frederick. Farmer
Leach Rt. G. Hardware Dealer. The Market, High Street. Leigh Beck
Leaman H. & Son, Shopkeepers. The Village
Lingood Georgina M. (Mrs.), Confectioner. High Street
Loe Alfred. Builder. Small Gains.
Longman A. E. Ltd. Tobacconists.High Street
Love C. A. & Son, Grocers, High Street
Luff Sidney Herbert. Boarding House, Sunnymeade, Leigh Beck
McCave Bertram A. Advertising Agent, Vanderwalt, High Street. Leigh Beck
McCulloch E. B. Dentist, Patmos, Liege Avenue.
Macgillivray Gertrude (Mrs.), Ladies' Outfitter, High Street
McLaren Thomas. Stationer. The Clock House. High Street.
McNaughton Jean (Miss), Boarding House. High Street. Leigh Beck
McNeill Frank Hugh, Stationer. High Street. Leigh Beck
Manly Edward. William. Builder. Westman lodge, Leigh Beck
Marsh Harry C. Baker, Furtherwick corner.
Maurice Hostel, Scott Holland House. Winter Gardens
Mecca, Confectioner. High Street
Milling Augustus G., F.A.L.P.A. Surveyor, Estate Agent & Architect, High Street.
Mitchell Louisa (Miss), Private Boarding School, Sea Holme, Gafzelle drive, Leigh Beck
Morgan Margaret. (Miss), District Nurse, 1 May Avenue
Motor Supply Co. (B. A. Sanderson, proprietor,), Motor Engineers. High Street
Murch Hy. Jas. Signwriter, Beach Road
Nash Rt. Hy. Charles. Greengrocer. The Village
Neale Chas. E. Turf Commssn. Agent. Cretan, Gills Avenue.
Nickolds G. A. Haulage Contactor. Southview, High Street.
Nutt Jas. W. Solicitor. Pax, Long Road
Nuttall Wltr. Refreshment. Rooms. High Street
Orbach Joseph. Tailor, Lakeside
Palmer & Stevens, Bakers, High Street. Leigh Beck & Hartfields par
Parker Annie (Mrs.), Refreshment. Rooms. High Street
Pavilion Restaurant, Shell beach.
Pearse's Motor Services Ltd. Motor omnibus proprietors.
Pease Percy J. Farmer, Little Brick house
Plant Sarah (Mrs.), Refreshment. Rooms. Lakeside
Poulton Ivy (Miss), Shopkeeper. Floss cottage. Leigh Beck
Powell's Stores (E. W. Lunn, proprietor), Grocers & provision merchants, newsagents & Tobacconists; all household requisites, Winter gardens.
Powell Florence (Miss), Boarding House. Warley, High Street. Leigh Beck
Premier Club (David E. Williams, proprietor.), Foksville Road.
Prentice Mary (Mrs.), Grocer, Furtherwick Road
Pretty W. & Sons, Builders. Stag ho. Sea View Road. Leigh Beck
Price Powell H. estate agt. Small Gains.
Purle Mary A. (Mrs.), Circulating Library, High Street
Rainbow Social Club (B.Helliker.sec)
Redman Hubert A.A.L.P.A. Estate Agent, Furtherwick Road.
Robinson Frank Reginald. Drug Store, High Street
Rowe Bernard Albert. Builder. Orient, Lorbotten Avenue
Scotches Tom, Fishmonger. High Street.
Searle Maria W. (Mrs.), Boarding House. Inglenook, Long Road.
Selby George, Hairdresser. 4 The Arcade, High Street
Sharpe Bros. Ltd. Upholsterers, Lakeside
Sieinssen Herbt. A., F.A.L.P.A. Estate Agent. Winter Gardens & Central Estate office.
Small Gains Call Office, High Street.
Small Gains Club (H. Price Powell, hon. sec).
Soames William. Refreshment. Rooms. Cricksea, High Street.
Southend Water Works Co. (S. J. Girling, local collector, Chi-Sham), Chamberlain Avenue.
Stevens Oliver Chas. Baker, High Street. Leigh Beck
Stevens William. Shopkeeper. Mayboy, Station Road. Leigh Beck
Stott & Bubbers Ltd. Grocers, High Street.
Surprise Cafe (Madame Blinn, proprietress), Boarding House. High Street
Tait George. Regnld. Timber Merchant. High Street. Leigh Beck.
Thames Estuary Building Society (Holmes Bros, agts.), High Street
Theobald Henry William, Farmer
Thorburn Wltr. Motor Engineer. Albert garage, Leigh Beck.
Thurston Albert. H. Grocer, High Street. Leigh Beck.
Tibbett William. J. Builders' Merchant. The Village.
Tobitt Albert Edward. Grocer, High Street
Trangmar Jas. Coal Merchant, Dysholme, High Street. Leigh Beck
Tremain William. Newsagent. High Street
Tutfield Regnld Albert. Grocer, Post Office, High Street.
Venables Charles Page M.P.S. Chemist,High street, Leigh Beck
Wade Hy. Market Gardener. Better Ole
Wade Herbert. Jn. Nurseryman, Leigh Beck
Wainwright Alfred. Builder. Vinehill, High Street. Leigh Beck
Walker Jn. Taylor, Confectioner. Long Road
Ward Jn. Fruiter. St. Aubyns, Station Road. Leigh Beck
Webley Stores (Percy Ryall, proprietor.), prams re-tyred & repaired; petrol, oils & household  sundries, Lakeside corner.
Went Jas. Lobster Smack P.H. Hole Haven.
Went Micheal Bryce, Pastrycook, High Street
Westminster Bank Ltd. (sub-branch) (tues. & fri. 10.30 a.m. to 2.30 p.m.), High Street; Head office, 41 Lothbury, London E C 2
White Harry & Joseph Marshall, Farmers, Long Road.
Whitney Albt. Cecil, Boot Repairer. Lakeside
Williams Maud (Miss), Nurse, Bestholmes Cambridge Road
Winter Garden Club (E. W. Lunn, inn.gr.), Winter Gardens
Woods George, Baker, The Village
Yorwarth Frederick. Confectioner. High Street
Young Beatrice (Mrs.), Newsagent. Winter Gardens