The Bulletin 1979-1986
Vol.1, No.1. Winter 1979
It was nearly 42 years ago that Fred McCave decided to publish a new community magazine. Many of us will have bought copies at the time and personally they were my first introduction into Canvey's history (little did I know then how much of my time would be taken up with the subject over the years). It not only gives us an insight into life on Canvey back in the 70s and 80s but with Fred McCave's appetite for history many stories and old photos have been saved for the benefit of Canvey Islanders today. So here for you to peruse is The Bulletin Vol 1, No 1.
A Bulletin From The Bulletin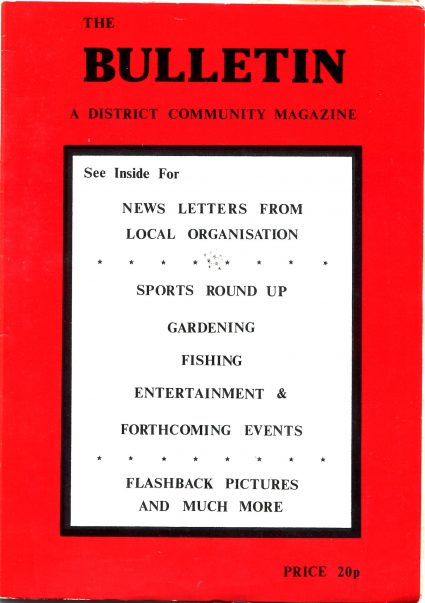 Published by The Riverside Printers,  171, Eastern Esplanade, Canvey Island, Essex. (Tel. Canvey 63111) where all contributions and letters should be sent. Printing Manager Mr, M. Lacey; Secretary, Mrs,  J. Lacey.
The birth of this community magazine is an experiment and one that has not been attempted before.
It is not in competition with existing local newspaper or other productions. Its purpose is to give in depth coverage to local organisations,  sporting events, and other matters which because of press commitments might not get the notice they do serve.
We should be pleased to receive reports views, letters and comments to be considered for future issues.
At this stage we are not soliciting advertisements but should business houses wish to support us space will be found.
As a area comprising Canvey, Benfleet and other parts of neighbouring South East Essex we look forward to support.
Congratulations to St. Nicholas Concert Party for their fine inaugural performance at the church of Handel's Messiah. It was good to hear once again Joyce Curran (nee Kimber) back in her old form as a contralto while Heather Walford Williams delighted as a soprano.
Martyn Dack as tenor and Ron Arthur (bass)were superb.
Alan Goodfellow (musical director) gave it that extra polish. Geoffery Williams, (guest organist) received well merited applause.
At the after performance party 'at The Rectory I had a chance of a quick word with the Rev. Geoffery Wrayford (Rector) who a keen musician himself, expressed his warm appreciation of the evening. I'm very glad that the church was packed for the occasion. Anyone wishing to get in touch with a view to joining the choir should contact Martyn Dack on Canvey 5506.
Through the kindness of Aubrey Stevens (who provided the transport) I was able   to visit the Essex Record Office who took part in the world-wide International Archives' Week.
A fascinating experience. A tremendous collection of County and local books (yes,   there's a bound copy of "Captivating Canvey" guide and a mint edition of Daly's Hester handbook), maps, documents, postcards and much  else relating to the area.
Well worth a trip to Chelmsford but – allow yourself plenty  of time and try and make an appointment with a note of what you would like to inspect.
Essex Exploration Theme (who supplied the nostalgic pictures in this issue, with the exception of the illustration of Benfleet Station, kindly loaned by Mr. Aubrey Stevens) has been formed as a result of the week referred to above. It is hoped to preserve pictures, maps, documents etc. relating both to Canvey Island and to the County.
One hears distressing tales of such relics being destroyed. At the moment permanent headquarters have not yet been set up but I should be delighted to deal with any matters at 14,  Lionel Road (Canvey 3240) or messages can be left with the publishers of this magazine at  171, Eastern Esplanade, Canvey. (Tel. : Canvey 63111).
Later, I hope that it might be possible to set a permanent exhibition of Roman relics, excavated by Fred. Grimwood.
Archaeology is a frightening word to some people but if one looks at it as digging up clues to our past it is less so.
Fred, has also supplied pieces to a museum at Southend as well as making his knowledge available to local school children.
Much of his detailed work concerns the so-called Red Hills. Originally they were sites where salt was extracted by boiling. It was a valuable mineral in those times (and in fact we still retain the old phrases – "Beneath the salt", "The salt of the earth", "Not worth his salt") and there was a belt of such 'factories' extending from east to west along the sea-front.
Fred. McCave (Editor).