Houseboats bylaws
P.L.A. Proposals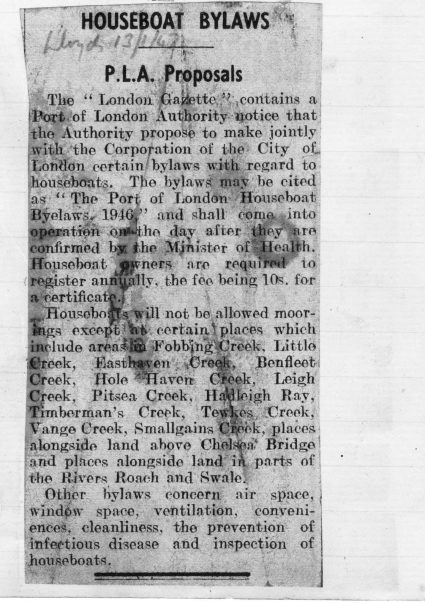 The "London Gazette" contains a Port of London Authority notice that the Authority propose to make jointly with the Corporation of the City of London certain bylaws with regard to houseboats. The bylaws may be cited as "The Port of London Houseboat Byelaws, 1946" and shall come into operation on the day after they are confirmed by the Minister of Health. Houseboat owners are required to register annually, the fee being 10s. for a certificate.
Houseboats will not be allowed moorings except at certain places which include areas at Fobbing Creek, Little Creek, Easthaven Creek, Benfleet Creek, Hole Haven Creek, Leigh Creek, Pitsea Creek, Hadleigh Ray, Timberman's Creek, Tewkes Creek, Vange Creek, Smallgains Creek, places alongside land above Chelsea Bridge and places alongside land, in parts of the Rivers Roach and Swale.
Other bylaws concern air space, window space, ventilation, conveni­ences, cleanliness, the prevention of infectious disease and inspection of houseboats.
Passed to us by Robert Hallmann