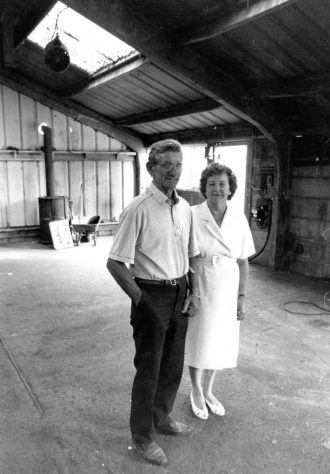 The following article which accompanied the photo of Joan and Geoff was written by Dee Eaton for the District News 2nd September 1994. The photo on the archive site is from the Echo collection so I assume they had the same or similar accompanying article.
Dedicated grandmother Joan Lythgoe is determined this shabby-looking industrial unit will one day become a thriving workshop for the disabled. Joan, 64, has campaigned tirelessly for two years to raise cash for the moral-boosting project on Canvey. She embarked on the mission after watching handicapped granddaughter Joanne Blackwell facing few job prospects. Nineteen year old Joanne was partially paralysed following a rare reaction to a routine vaccination when she was eight months old. But Joan found Joanne's job opportunities were restricted and decided to widen options for handicapped youngsters with an esteem and experience building project. But the scheme has met a demoralising stumbling block which only generous firms and volunteers can remove. /charitable companies are being urged to donate materials and manpower to get the venture off the ground. A touching letter has been circulated to dozens of businesses pleading for help and some kind-hearted bosses have already responded. However building materials still needed include wood, chipboard, plasterboard, plastic sheeting, nails, lighting, toilets and water heater. Labourers are also being sought to help with heavy construction work. Without contributions, the dilapidated building at Charfleets Industrial Estate will remain an empty dream for countless youngsters relying on the generosity of others for a future.
Business Opportunities for the Physically Handicapped – formerly The Joanne Blackwell Workshop- is still awaiting charity status from the Charities Commission but hopes to gain that once the centre is open. Activities anticipated include training for receptionists, secretaries, printers and packers. A pilot group of six is expected to be in by the end of the year-depending on the level of support. Joan, of Deepwater Road, Canvey, said she was disturbed to discover the lack of opportunities for people with disabilities. She and her husband Geoffrey set about recruiting family and friends as fundraisers. Joan, a retired supervisor, said:"First we called the venture the Joanne Blackwell Workshop but then decided to change the name to Business Opportunities for the Physically Handicapped. It was thought this would promote a more professional image and our project would demonstrate to others the capabilities and potential out physically handicapped youngsters have. The aim of the project is to give them the chance of leading a life comparable with others of their age when they leave school or college. We want to find out what each person is capable of then find them work in that area, to give them the confidence and self esteem they would get if they were able to go out to work. These young people have a lot to offer and with computer technology and adaptations could show their worth. We feel our project could greatly add to the quality of life not only of these youngsters but also for their families".