Bingo Calls Time on Islanders Cinema
News Observer 1976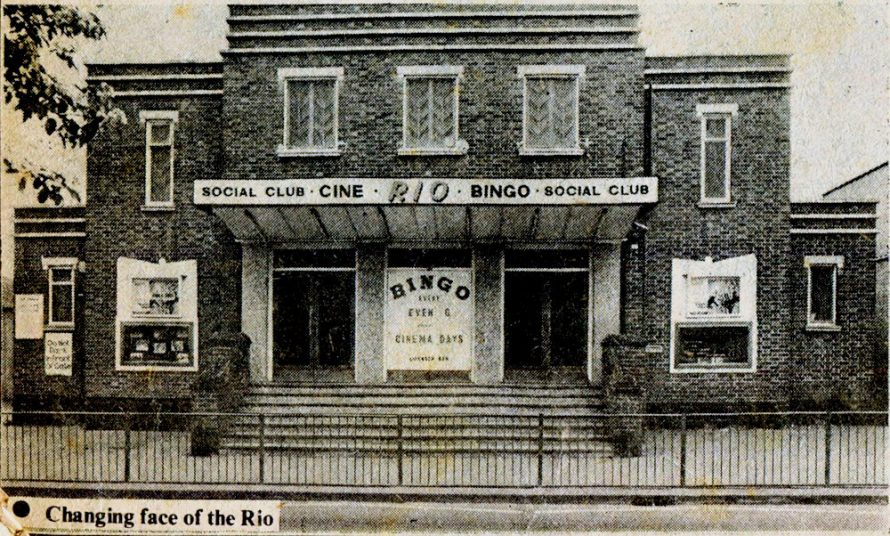 Canvey will be without the Rio Cinema from July.
The cinema is to close through rising costs and lack of support and bingo will take over completely. From July the only films shown will be for children at early evening matinees during school holidays.
Owners of the building which opened in 1937, Craydem Cinemas Ltd. of Crystal Palace were un­available for comment, and Rio manager George Steven­son said "It's lack of sup­port".
But Ernest Johnson, pro­jectionist at the Rio.for 20 years spoke of the difficulties of only showing films two days a week. He said: "When I came here in 1962 the cinema was showing films five days a week and bingo was held on two nights. The response to the bingo was very good and slowly over the years it has taken over. These days it's difficult to rent films from dis­tributors for just two days and some, like The Exorcist (the Rio's last adult film at the end of June) we have to have for a minimum four days. That means we have to rent it for a fortnight and with only four days' receipts it is becoming more and more uneconomical with rising hiring costs."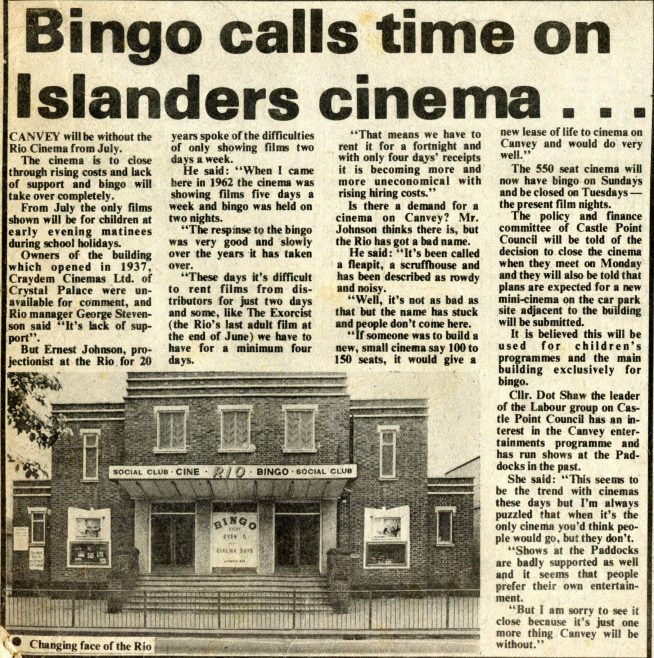 Is there a demand for a cinema on Canvey? Mr. Johnson thinks there is, but the Rio has got a bad name. He said: "It's been called a fleapit, a scruffhouse and has been described as rowdy and noisy. Well, it's not as bad as that but the name has stuck and people don't come here. If someone was to build a new, small cinema say 100 to 150 seats, it would give a new lease of life to cinema on Canvey and would do very well."
The 550 seat cinema will now have bingo on Sundays and be closed on Tuesdays — the present film nights. The policy and finance committee of Castle Point Council will be told of the decision to close the cinema when they meet on Monday and they will also be told that plans are expected for a new mini-cinema on the car park site adjacent to the building will be submitted.
It is believed this will be used for children's programmes and the main building exclusively for bingo. Cllr. Dot Shaw the leader of the Labour group on Cas­tle Point Council has an in­terest in the Canvey enter­tainments programme and has run shows at the Pad­docks in the past.
She said: "This seems to be the trend with cinemas these days but I'm always puzzled that when it's the only cinema you'd think peo­ple would go, but they don't. Shows at the Paddocks are badly supported as well and it seems that people prefer their own entertain­ment. But I am sorry to see it close because it's just one more thing Canvey will be without."