Canvey Robberies
Canvey News and Benfleet Recorder 1961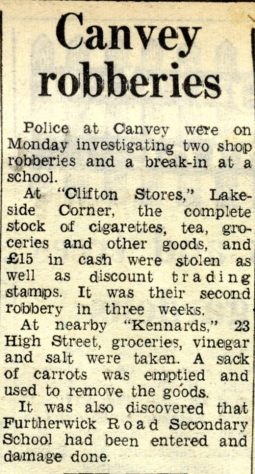 Police at Canvey were on Monday investigating two shop robberies and a break-in at a school.
At "Clifton Stores," Lake­side Corner, the complete stock of cigarettes, tea, gro­ceries and other goods, and £15 in cash were stolen as well as discount trading stamps. It was their second robbery in three weeks.
At nearby "Kennards," 23 High Street, groceries, vinegar and salt were taken. A sack of carrots was emptied and used to remove the goods.
It was also discovered that Furtherwick Road Secondary School had been entered and damage done.