He Is NOT Dead
Canvey News and Benfleet Recorder 1963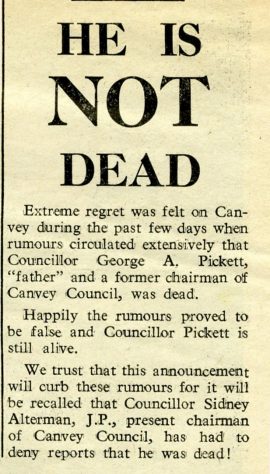 In 1963 rumours were so rife re George Pickett that this had to be published in the Canvey News.
He Is NOT Dead
Extreme regret was felt on Canvey during the past few days when rumours circulated that Councillor George A Pickett, 'father' and former chairman of Canvey Council, was dead.
Happily the rumours proved to be false and George Pickett is still alive.
We trust that this announcement will curb these rumours for it will be recalled that Councillor Sidney Alterman, JP, present chairman of Canvey Council, has had to deny that he was dead!
~~~~~~~~~~~~~~~~~~~~
What can one say other than keep moving or someone might start a rumour on Canvey that you were dead!
I believe (please correct me if I am wrong) that George died in 1982 and Sidney in 1987.