Bits of News From 1904
Canvey News Dutch Island Chronicle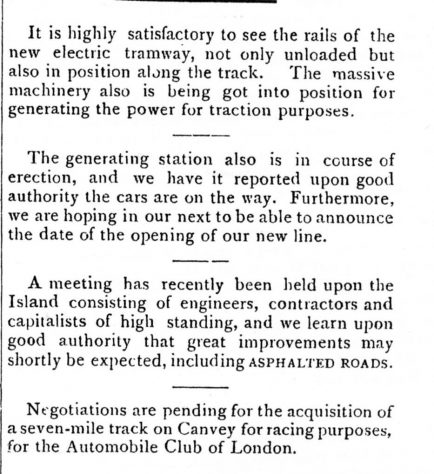 It is highly satisfactory to see the rails of the new electric tramway, not only unloaded but also in position along the track. The massive machinery also is being got into position for generating the power for traction purposes.
The generating station also is in course of erection, and we have it reported upon good authority the cars are on the way. Furthermore, we are hoping in our next to be able to announce the date of the opening of our new line.
A meeting has recently been held upon the Island consisting of engineers, contractors and capitalists of high standing, and we learn upon good authority that great improvements may shortly be expected, including asphalted roads.
Negotiations are pending for the acquisition of a seven-mile track on Canvey for racing purposes, for the Automobile Club of London.