Overheard At Canvey On Bank Holiday
Tripper's passing remarks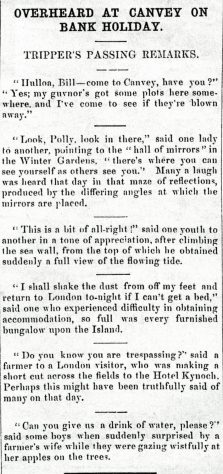 "Hulloa, Bill —come to Canvey, have you ?" "Yes; my guvnor's got some plots here some­where, and I've come to see if they're blown away.
"Look. Polly, look in there," said one lady to another, pointing to the "'hall of mirrors" in the Winter Gardens. "there's where you can see yourself as others see you." Many a laugh was heard that day in that maze of reflections, produced by the differing angles at which the mirrors are placed.
"This is a bit of all-right !" said one youth to another in a tone of appreciation, after climbing the sea wall, from the top of which he obtained suddenly a full view of the flowing tide.
"I shall shake the dust from off my feet and return to London to-night if I can't get a bed," said one who experienced difficulty in obtaining accommodation, so full was every furnished bungalow upon the Island.
"Do you know you are trespassing?'" said a farmer to a London visitor, who was making a short cut across the fields to the Hotel Kynoch. Perhaps this might have been truthfully said of many on that day.
"Can you give us n drink of water, please?" said some boys when suddenly surprised by a farmer's wife while they were gazing wistfully at her apples on the trees.