"Rearing Supper" At The Hoy Inn.
Canvey News Dutch Island Chronicle 1904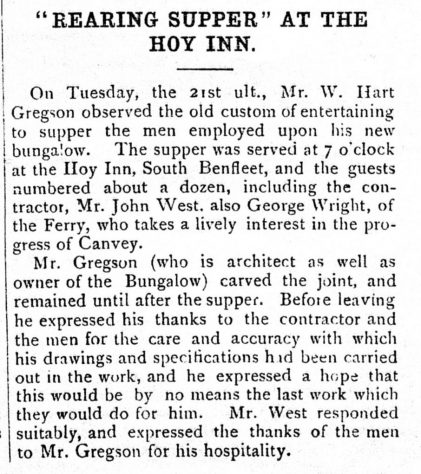 On Tuesday, the 21st ult., Mr. W. Hart Gregson observed the old custom of entertaining to supper the men employed upon his new bungalow. The supper was served at 7 o'clock at the Hoy Inn, South Benfleet, and the guests numbered about a dozen, including the con­tractor, Mr. John West, also George Wright, of the Ferry, who takes a lively interest in the pro­gress of Canvey.
Mr. Gregson (who is architect as well as owner of the Bungalow) carved the joint, and remained until after the supper. Before leaving he expressed his thanks to the contractor and the men for the care and accuracy with which his drawings and specifications had been carried out in the work, and he expressed a hope that this would be by no means the last work which they would do for him, Mr. West responded suitably, and expressed the thanks of the men to Mr. Gregson for his hospitality.