Claim for damage to barge
Judgement in City Court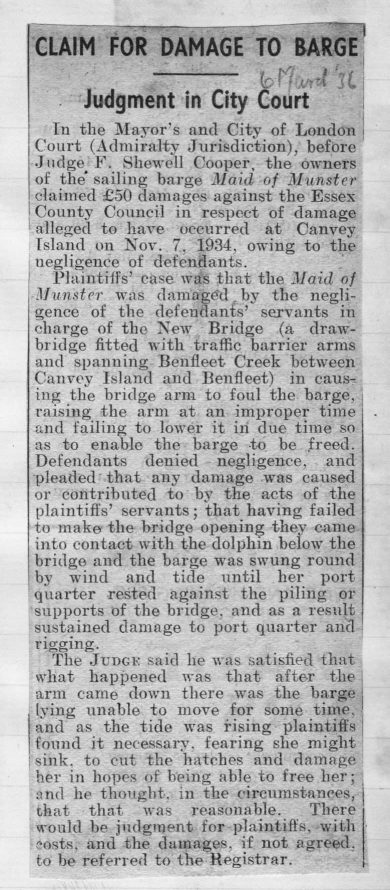 In the Mayor's and City of London Court (Admiralty Jurisdiction), before Judge F. Shewell Cooper, the owners of the sailing barge Maid of Munster claimed £50 damages against the Essex County Council in respect of damage alleged to have occurred at Canvey Island on Nov. 7, 1934, owing to the negligence of defendants.
Plaintiffs' case was that the Maid of Munster was damaged by the negli­gence of the defendants' servants in charge of the New Bridge (a draw­bridge fitted with traffic barrier arms and spanning Benfleet Creek between Canvey Island and Benfleet) in causing the bridge arm to foul the barge, raising the arm at an improper time and failing to lower it in due time so as to enable the barge to be freed. Defendants denied negligence, and pleaded that any damage was caused or contributed to by the acts of the plaintiffs' servants; that having failed to make the bridge opening they came into contact with the dolphin below the bridge and the barge was swung round by wind and tide until her port quarter rested against the piling or supports of the bridge, and as a result sustained damage to port quarter and rigging.
The Judge said he was satisfied that what happened was that after the arm came down there was the barge: lying unable to move for some time, and as the tide was rising plaintiffs found it necessary, fearing she might sink, to cut the hatches and damage her in hopes of being able to free her; and he thought, in the circumstances, that that was reasonable. There would be judgement for plaintiffs, with costs, and the damages, if not agreed, to be referred to the Registrar.
Passed to us by Robert Hallmann