Coastguard Averts War Bomb Disaster
June 2000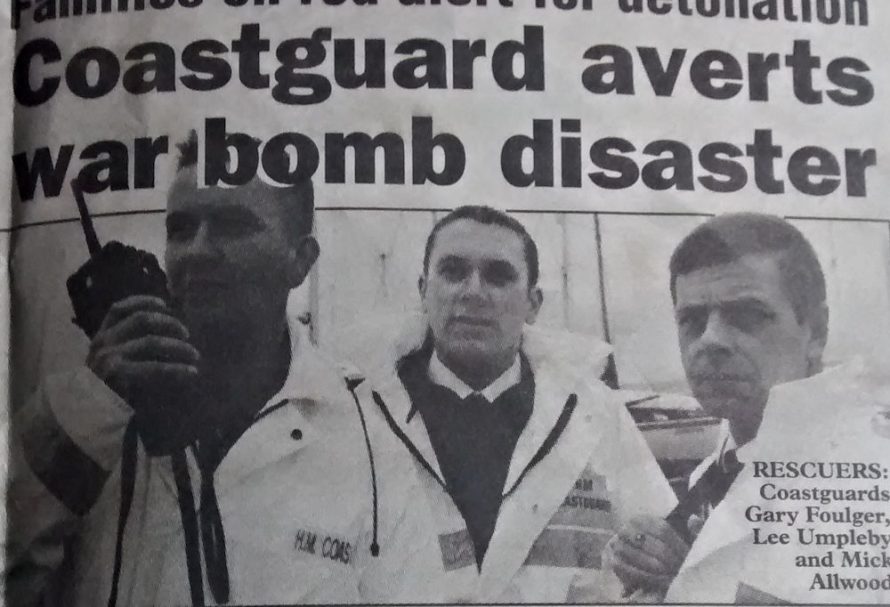 Families were placed on red alert and sections of Canvey beach cordoned off following the discovery of an unexploded anti-aircraft shell last weekend.
Coastguard Gary Foulger pre­vented disaster after discovering the live projectile just 200 yards from a children's paddling pool on Canvey's Eastern Esplanade.
Mr Foulger and his colleagues left their day jobs on Monday to cordon off a sea wall walkway and await the arrival of a bomb disposal team.
Meanwhile police warned resi­dents living nearby to stay indoors and keep their windows open to avoid damage from shock waves.
Mr Foulger, of Eastfield Road, had been trawling the mud flats looking for archaeological relics on Sunday morning when he chanced upon the dangerous 18ins wartime shell.
Marked
As the sea advanced behind him Mr Foulger marked the spot – close to the beach and the youngsters' pool – called the emergency services and donned his coastguard gear.
But bomb disposal experts were unable to detonate the anti­-aircraft shell until Monday morn­ing because the tide prevented them from carrying out a full examination.
Instead they were called to the aid of a dredger, the Arco-Beck, which had sucked up what turned out to be a dead shell off the coast of Southend.
Mr Foulger, 42, said: "I saw the shell was marked with red and had an idea it could be dangerous. But it was only when I saw it go up in the air that I realised how risky it was.
"But I'm not the hero here. I was just doing my job. It's the boys who blew it up who really risked their lives."