Fire Wrecks Block of Island History
Local Paper cutting 1989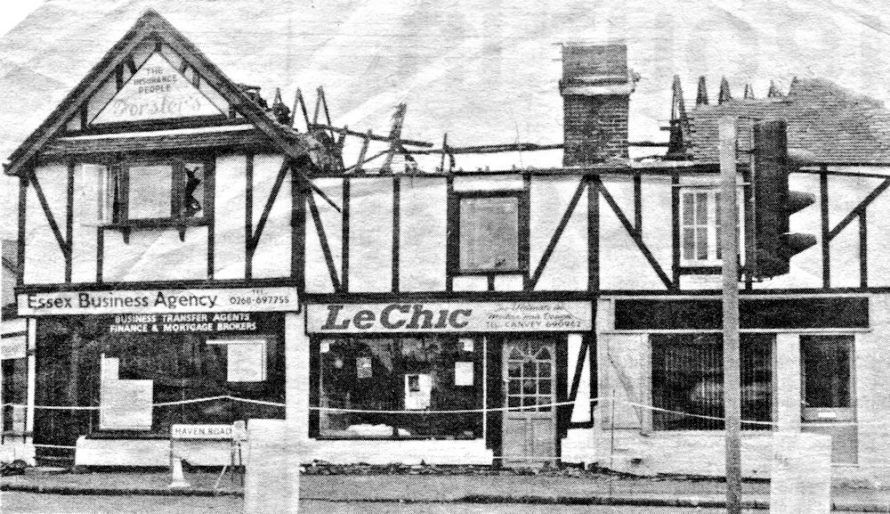 One of Canvey's oldest buildings was destroyed by fire yesterday. It swept through the office and shops on the corner of Haven Road. Firemen from Canvey and Hadleigh went into action as police sealed off roads for two hours.
Sgt Ken Dodd said the blaze was not being treated as suspi­cious and Canvey fire station sub-officer Malcolm Johnson said a wiring fault was thought to have been the cause. He said: "The top of the building has gone. The fire was spreading up through the cavity walls and between the tiles and wooden backing. The close timbered roof made our job very difficult. There is probably about 75 per cent damage to the building, and a lot of equipment will have been destroyed by water."
The black and white half-timbered block of three busi­nesses is believed to date from 1860.
One of the owners, Mr Colin Lane of Ringcarn Electrical Contractors said: "Next to the Dutch Cottage museum, these are the oldest buildings on the island. This one used to be the post office." The middle of the block was used by Le Chic hairdressers and the third part belongs to Essex Business Agency whose owner Mr Bob Leonard said practically everything had gone except his files in a metal cabinet. He said: "We are arranging caravans in the yard next door and will be working from there so hopefully it will be business as usual from Monday.
Mr John Peters, principal as­sistant to the chief executive at Castle Point Council said: "The chief planning officer Mr Ian Burchill inspected the buildings and is satisfied they are not causing any danger to the public."
Brentwood station officer David Brigden said: "The build­ing is going to need re-roofing but none of the supporting walls is extensively damaged. But for the quick response of the crews, it would probably have been a total loss."