Islanders Vote on the Merger
Newspaper Article Sept 12th 1974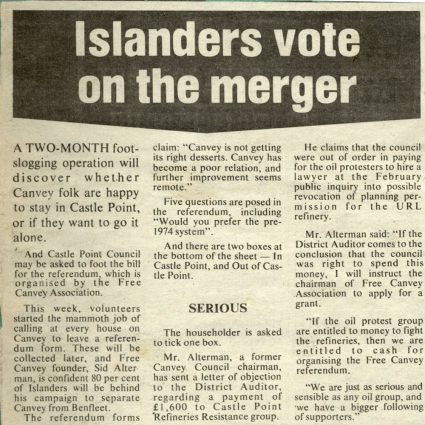 A Two-month foot-slogging operation will discover whether Canvey folk are happy to stay in Castle Point, or if they want to go it alone. And Castle Point Council may be asked to foot the bill for the referendum, which is organised by the Free Canvey Association.
This week, volunteers started the mammoth job of calling at every house on Canvey to leave a referen­dum form. These will be collected later, and Free Canvey founder, Sid Alterman, is confident 80 per cent of Islanders will be behind his campaign to separate Canvey from Benfleet.
The referendum forms claim: "Canvey is not getting its right desserts. Canvey has become a poor relation, and further improvement seems remote." Five questions are posed in the referendum, including "Would you prefer the pre-1974 system". And there are two boxes at the bottom of the sheet — In Castle Point, and Out of Cas­tle Point. The householder is asked to tick one box.
Mr. Alterman, a former Canvey Council chairman, has sent a letter of objection to the District Auditor, regarding a payment of £1,600 to Castle Point "Refineries Resistance group. He claims that the council were out of order in paying for the oil protesters to hire a lawyer at the February public inquiry into possible revocation of planning per­mission for the URL refinery.
Mr. Alterman said: "If the District Auditor comes to the conclusion that the council was right to spend this money, I will instruct the chairman of Free Canvey Association to apply for a grant. "If the oil protest group are entitled to money to fight the refineries, then we are entitled to cash for organising the Free Canvey referendum. "We are just as serious and sensible as any oil group, and we have a bigger following of supporters."