Skydiving Devils in Waterside Spectacular
1976 News Observer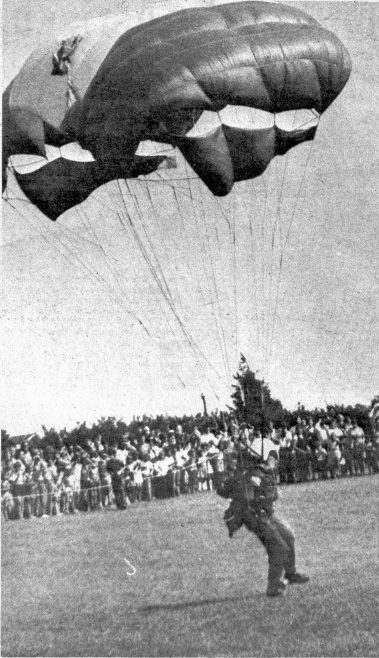 Trailing clouds of pink smoke, the Red Devils made a spectacular entrance to Waterside Farm on Saturday, to mark the official opening of the £1m super sports centre.
About 4,000 converged on the Canvey sports com­plex to see the parachute display, and to enjoy events in the two-day Festival of Sport.
The centre was opened by Castle Point Council chairman, Joe Pike, who was helped with the plaque unveiling by two schoolchildren, Michael Wise of Appleton School, Benfleet, and Sarah Gale, of Cornelius Vermuyden, Canvey.
Cllr. Pike told the crowds of sports fans: "The idea for this centre goes back as far as 1960. Of course, costs have escalated since then, and it has now cost more than £1 m. Many people have worked on this project, and they have all given of their best."
Sarah and Michael were chosen to help with the opening ceremony to emphasise the importance youth has on the future of Waterside Farm.
Among special guests at the ceremony were MP, Sir Bernard Braine, chairman of Rochford Council, Alan Harvey, and Canvey Carnival Queen, Angela Wilby.
A nice surprise was a presentation of a silver salver by a construc­tion firm who provided lockers at the centre.
During the action-packed weekend, a record number of visitors flocked to the centre. Castle Point chief recreation and amenities officer, Terry Hadert, said: "We hope that people will come back and use the facilities on a regular basis, now they have seen what we can offer."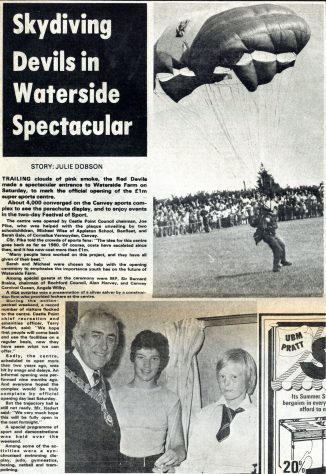 Sadly, the centre, scheduled to open more than two years ago, was hit by snags and delays. An informal opening was per­formed nine months ego. And everyone hoped the complex would be truly complete by official opening day last Saturday.
But the trajectory hall is still not ready. Mr. Hadert said: "We very much hope this will be fully open in the next fortnight."
A special programme of sport end demonstrations was held over the weekend.
Among some of the ac­tivities were a syn­chronised swimming dis­play, judo, gymnastics, boxing, netbell and trampolining.