South Essex Eye Hospital "At Home."
Newspaper cutting date unknown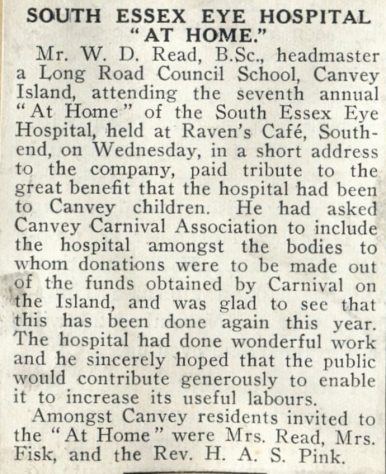 Mr. W. D. Read, B.Sc., headmaster at Long Road Council School, Canvey Island, attending the seventh annual "At Home" of the South Essex Eye Hospital, held at Raven's Cafe, South­end, on Wednesday, in a short address to the company, paid tribute to the great benefit that the hospital had been to Canvey children.
He had asked Canvey Carnival Association to include the hospital amongst the bodies to whom donations were to be made out of the funds obtained by Carnival on the Island, and was glad to see that this has been done again this year.
The hospital had done wonderful work and he sincerely hoped that the public would contribute generously to enable it to increase its useful labours.
Amongst Canvey residents invited to the "At Home" were Mrs. Read, Mrs. Fisk, and the Rev. H. A. S. Pink.
~~~~~~~~~~~~~~~~~~~~~
This was a page taken from a scrapbook the Jill Burkett's husband found in a box of postcards he bought at auction. We have no way of knowing who the people are in the photos or even if they are connected to Canvey. We do not have a date for this either. Any ideas??