Islanders and the law
Stray cattle at Canvey
From the Essex County Chronicle 1913
~~~~~~~~~~~~~~~~~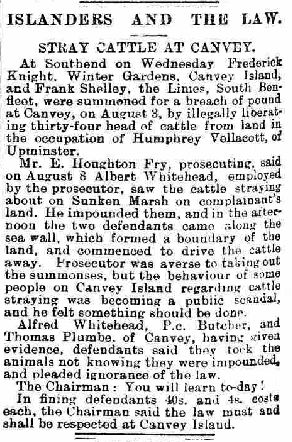 At Southend on Wednesday Frederick Knight, Winter Gardens, Canvey Island, and Frank Shelley, the Lines, South Benfleet, were summoned for a breach of pound at Canvey, on August 8, by illegally liberating thirty-four head of cattle from land in the occupation of Humphrey Vollacott, of Upminster.
Mr E Houghton Fry, prosecuting, said on august 8 Albert Whitehead, employed by the prosecutor, saw the cattle straying about on Sunken Marsh on complainant's land. He impounded them and in the afternoon the two defendants came along the seawall, which formed the boundary of the land, and commenced to drive the cattle away. Prosecutor was averse to taking out the summons, but the behaviour of some people on Canvey Island regarding cattle straying was becoming a public scandal, and he felt something should be done.
Alfred Whitehead, PC Butcher and Thomas Plumbe, of Canvey, having given evidence, defendants said they took the animals not knowing they were impounded, and pleaded ignorance of the law.
The Chairman: You will learn today! In fining the defendants 40s and 4s costs each, the Chairman said the law must and shall be respected at Canvey Island.