Alleged Impudent Theft of Beer at Canvey Island
Essex Newsman Sat 01 Jun 1895
On Thursday, at the Southend Petty Session, before Alderman T. Dowsett, George French, alias Darky French, was charged, with Arthur Rose, a labourer, with stealing a cask containing nine gallons of beer, the property of Mr. Wm. Smith, the landlord of the Red Cow Inn, Canvey Island. There is also a similar charge against a third man not yet in custody.—The prosecutor said he missed the beer from a shed at the end of his yard on Monday morning, and afterwards saw the cask at the house of Arthur Knott. It was then about half empty. The prisoners were at his house on Sunday evening.—Arthur Knott, labourer, said he was at the inn on Sunday night from seven to ten. The prisoners and others left about ten o'clock. He afterwards saw a man named Bill Hymas carrying a cask down the road. The cask fell off his shoulder, and Hymas said, "Stop a minute. I think I hear someone coming." Hymas rolled the cask into the ditch, and wit­ness afterwards helped him to get it out. Witness then fetched the prisoner French and a man named Theedom. Rose also came up, and they all helped to carry the cask to witness's house. They all went in, tapped the cask, and drank of the beer. Some of the men left the house about twelve o'clock. He, Hymas, and Pooley stayed there all night.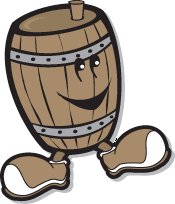 George Appleton, labourer, said that on leaving the inn he walked home with Mrs. Knott and went into her house. The other men ar­rived afterwards with the cask and witness had some of the beer.
F. K. Pooley also gave evidence.
P.c. Boreham said Rose had admitted having had some of the beer, and knowing where it came from.
Prisoners, who were remanded, said they had some of the beer, but did not steal it. Rose was admitted to bail.