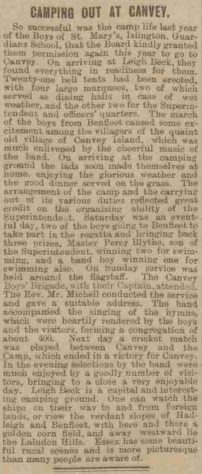 So successful was the camp life last year of the Boys of St Mary's, Islington, Guardians School, that the Board kindly granted them permission again this year to go to Canvey. On arriving at Leigh Beck, they found everything in readiness for them. Twenty-one bell tents had been erected, with four large marquees, two of which served as dining halls in case of wet weather, and the other two for the Superintendent and officer's quarters.
The march of the boys from Benfleet caused some excitement among the villagers of the quaint old village of Canvey Island, which was much enlivened by the cheerful music of the band. On arriving at the camping ground the lads soon made themselves at home, enjoying the glorious weather and the good dinner served on the grass. The arrangement of the camp and the carrying out of various duties reflected great credit on the organising ability of the Superintendent.
Saturday was an eventful day, two of the boys going to Benfleet to take part in the regatta and bringing back three prizes. Master Percy Blythe, son of the Superintendent, winning two for swimming and a band boy winning one for swimming also. On Sunday service was held around a flagstaff. The Canvey Boys' Brigade, with their Captain, attended. The Rev. Mr Michell conducted the service and gave a suitable address. The band accompanied the singing of the hymns, which were heartily rendered by the boys and the visitors, forming a congregation of about 400. Next day a cricket match was played between Canvey and the Camp, which ended in a victory for Canvey. In the evening selections by the band were much enjoyed by a goodly number of visitors, bringing to a close a very enjoyable day.
Leigh Beck is a capital and interesting camping ground. One can watch the ships on their way to and from foreign lands, or view the verdant slopes of Hadleigh and Benfleet with here and there golden corn field and away westward lie the Laindon Hills. Essex has some beautiful rural scenes and is more picturesque than many people are aware of.On
~~~~~~~~~~~~~~~
More can be read about the camp in latter years when it moved to the vicarage here.